What's On The Hi-FI...GIGUIDE


The Music For Toys Festival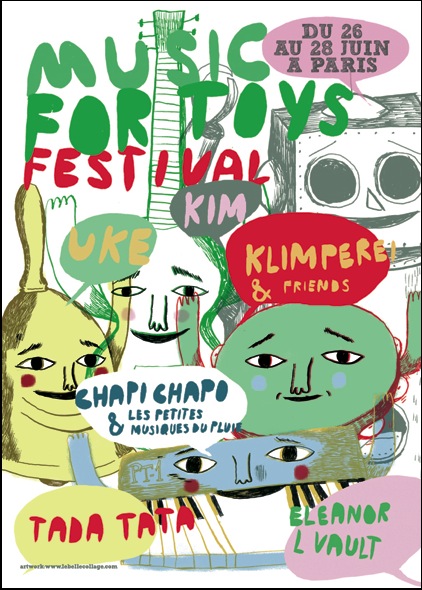 The Music For Toys F

Gang Gang Dance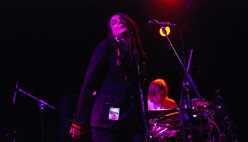 Music Hall of Williamsburg, NYC
28 November 2008

Ethno-cutltural bomb Gang Gang Dance pulled off a cool if oft-times too hippy spiritual set at the wonderful Music Hall of Williamsburg. Opener the Z's were as my friend put it 'a 15 fifteen minute stream of frenzied, neurotic, agony'. The real highlight was guitar firestormer, Marnie Stern, who proved that chicks (even with an Upper Eastside name) can rock.



Jolie Holland

Le Reservoir, Paris
21 November 2008

Jolie was anything but. This competent singer / songwriter gave such a bad tempered performance, that it was a surprise that her 25 euros + paying audience was as patient as they were. Any fan would have been disappointed.



Sigur Rós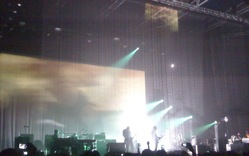 Le Zenith, Paris
15 November 2008

In support of their latest album, með suð í eyrum við spilum endalaust (which apparently translates as "with a buzz in our ears we play endlessly"), Sigur Rós transformed the soulless Zenith with their otherworldly and sparkling anthems, complemented by a spot on stage show (including a surprisingly effective sheet of rain at the front of the stage).


Set list

Svefn-G-Englar
Ný Batterí
Fljótavík
Við Spilum Endalaust
Hoppípolla
Méð Blóðnasir
Inní Mér Syngur Vitleysingur
E-Bow
Sæglópur
Festival
Hafsól
Gobbledigook
All Alright
Popplagið



Late of the Pier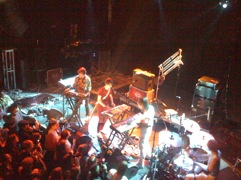 Music of Williamsburg, Brooklyn
22 October 2008

A beautiful CMJ night aside in NYC, Late of the Pier gave a stellar first U.S.A set. Never bogged down by hype or youth they mixed and matched without loss of scope and highlighted the set with a fiery rendition of 'Bears Are Coming'. See them if possible but try to miss the Whip whose songs are just plain dull.



Ani Difranco

La Cigale, Paris
26 October 2008

Drawing from her vast songbook (with relatively few songs from her new release "Red Letter Year"), Ani treated her enthusiastic audience to an often autobiographical sampling of songs, confidently showing how its done to be at once a consummate performer and an evocative signer / songwriter.



Ladyhawke
Point Ephémère, Paris
8 October 2008

After a shaky start due to bad sound levels, the charmingly shy Ms. Brown and band put on a great show, standouts include Another Runaway, Back of the Van and My Delerium -- now if she could just develop the rock stage presence to match (kudos for not playing an encore) . . . .


Lykke Li

Nouveau Casino, Paris
23 September 2008

The much-hyped young Swede played to an enthusiastic crowd at this great venue, shining with songs like Little Bit, but at other times underwhelming and coming across as a lyrically challenged Olsen twin . . . .


Sun Kil Moon

Le Maroquinerie, Paris
9 September 2008

Despite his grumpy quips between songs (too much smoke, too hot, too few women in the front row, you get the idea) Mark Kozelek and his band played beautiful epic songs (highlights still being from The Red House Painters), but fall short as a less than engaging live act . . . .


estival is one of the quirkiest Paris music festivals, and its back this week! Over three days from 26 - 28 June, the festival features 10 artists / groups performing only with toy instruments. As a bonus, all shows are free!
On Friday the 26th at 1Bis (Ivry-sur-Seine), the young Englishman Michael Wookey opens the festival with his brand of "bizarre folk", along with duo Kids on Holidays and the folk/rock mini-orchestra KIM & His Toy Orchestra. Saturday's show kicks off at 7pm at Glaz'Art and features the musical miniatures of Klimperei & Friends, multi-instrumentalists Chapi Chapo & Les Petites Musiques de Pluie and the sound collages of GNG. The festival closes on Sunday night at l'International with Swedish duo Tada Tata, the atmospheric pop of UKE, the "drill'n'bass" inspired Madame Patate and the delicate, parsimonious intensity of Eleanor L. Vault.
Festival organizers, the label MonsterK7, are releasing a compilation in connection with the festival. Since the festival is free, picking up a copy of the compilation is a way to help support the festival and its artists!
For more information:
MONSTERK7
Listen to "Kim" MP3


Listen to "TadaTata" MP3


Listen to "GNG" MP3






Asobi Seksu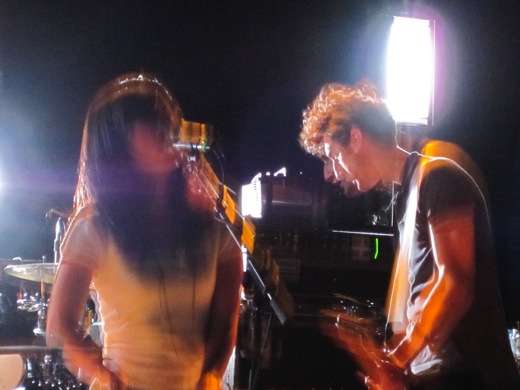 Although the rain fell on day two of the Northside Festival in Williamsburg the throngs that gathered along Bedford Avenue showed the signs of success of the event. With most of the What's on the Hi-Fi crew in town for the weekend, we decided to take in the Cymbals Eat Guitars and Asobi Seksu show at the Music Hall. Unfortunately, due to horrible sound conditions the bands were painful. By appearance alone they seemed game enough but I can't really tell you whether it was a good live show or not. One could definitely say that lead singer Yuki Chikudate has a promising career as a front woman. We are inquiring into why the sound leveling was so off with management at the Music Hall of Williamsburg. I imagine it was a one time issue as we have been to many shows of all types there and never had this problem.






The Villette Sonique Festival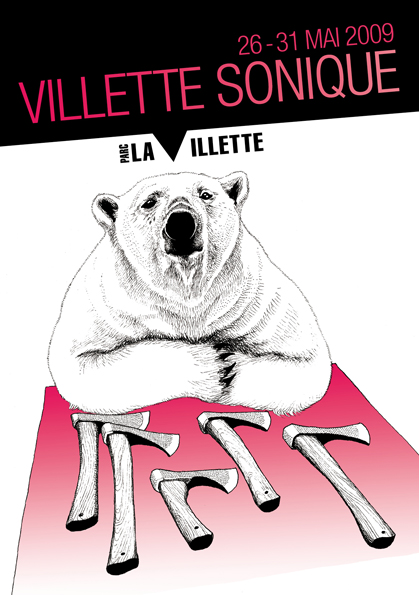 The Villette Sonique festival is back on 27-31 May at Parc La Villette in Paris with an eclectic line-up of shows and events under this year's banner of "Mutant Drums".
Chicago noise rockers The Jesus Lizard opens the festival with Men Without Pants (Dan The Automator's project with Russel Simmins of Jon Spencer Blues Explosion) at La Grande Halle de la Villette. The second night sees Atlanta's Black Lips and Krautrocker's Liars taking over the circus tent that is Cabaret Sauvage. On the 29th, NY minimal punk funk stalwarts Liquid Liquid are up with the Japanese rhythmic noise trio Nissenenmondai, and Goblin reinterpreting the soundtracks of cult composer Dario Argento.
Not to be missed are the free weekend outdoor shows on the park lawns with Deerhoof, Lightning Bolt, Syrian folkster Omar Souleyman, Dan Deacon & Ensemble and Ebony Bones. The festival's electro line-up is over two days and features the likes of Diplo, Ritchie Hawtin, Jesse Rose, Boy 8-Bit, and DJ Hell.
The festival also welcomes Sunn O))), Ariel Pink, Magda, Erna Omarsdottir, Extra Life, Tussle, Duchess Says, Monotonix, Gaiser and Barem.
As is the style (think Jarvis Cocker and his children's dance workshops earlier this month), Scratch Massive will be hosting an "introduction to electronic music and organic sampling" for the wee ones on the 30th.
Click for full lineup:
www.villettesonique.com

Le festival musical itinérant Les Femmes S'en Mêlent entame sa douzième édition cette année !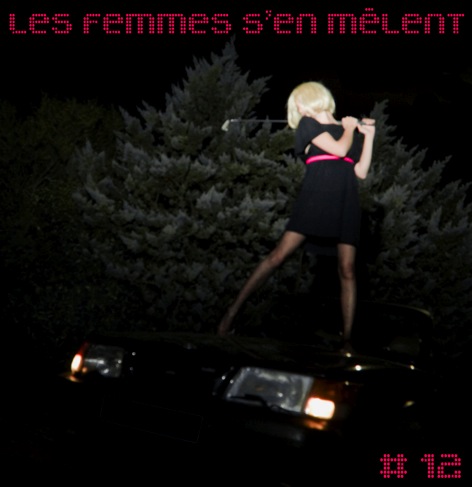 Indie music festival Les Femmes s'en Mêlent (Women Mix It Up) kicks off this week on 16 April. Over its 2-week run, the festival will feature up-and-coming and established female-led acts with shows in France, Belgium, Switzerland, Germany, Spain and England. Past acts have included the likes of Catpower, M.I.A., CSS, Metric, Feist and Peaches.
Juana Molina, Wildbirds and Peacedrums, Cranes, Tamara Williamson, Eleni Mandell, Telepathe, St. Vincent, Battant, Our Broken Garden, Scary Mansion and Frida Hyvönen are some of the acts confirmed for shows in Paris this year (unfortunately, Swedish singer / songwriter Jenny Wilson has had to cancel her shows in France).
Check the Les Femmes s'en Mêlent site for the full line-up:
http://www.lfsm.net
.

The Boxer Rebellion

Photo Dan Katz
Mercury Lounge, NYC
24 March, 2009
The sidewalk in front of Mercury Lounge teamed two deep with an excited, diverse crowd pumped to see The Boxer Rebellion at the second of their two night stint in NYC's Mercury Lounge. Admittedly, What's On The Hi-Fi was curious to know if the band could pull off their amazingly full and rich sound at such an intimate venue that is not known for its' acoustics. The boys answered that question right off the bat as they hurled into a rousing rendition of "Flashing Red Light Means Go" with Todd Howe banging out support drumming before laying into some spot-on fretwork. They continued on playing most of the songs from their sophomore album
Union
. As on the album, singer Nathan Nicholson proved to be a magnetic front man with a sweet voice that rocked the crowd with a quiet yearning and drummer Piers Hewitt replete with big Bonhamesque muttonchops banged the group into a frenzy.
We took two things away from the show. First, unlike many bands, they were able to create a sound that held up to the album production with a welcome live twist. And, that I wish the guys would play some more rockers. I was surprised how well they cranked out the heavy stuff during the encore. Best said: Try to see these guys before they jump to the larger venues and much more expensive tickets.
The Duke Spirit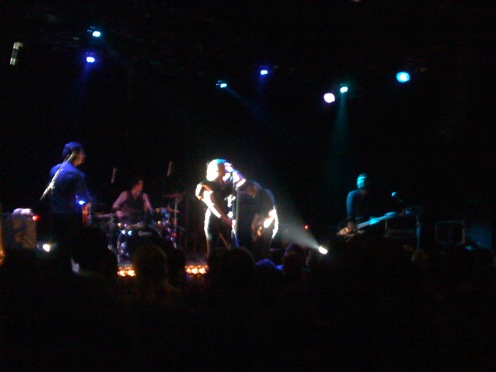 with the Mobius Band supporting
Music Hall of Williamsburg, NYC
16 February 2009
On President's Day, What's On The Hi-Fi had another night in Brooklyn at the always great Music Hall. It felt like most of the crowd was there to support the Mobius Band (Brooklyn natives) who didn't hold their own from my perch at the bar. Once I slinked to the floor for a gander of these boys, the feeling was a little brighter but I still don't think the tinker-toy screwing about with Casio keyboards makes for good music. It's interesting in print but a blight to the ear.
Now as for The Duke Spirit, it is safe to say that Liela Moss is one of the best, undiscovered front people out there right now. She rolls and hangs on the mic stand with equal thunder and abandon. She leans like a sexual awning closing in on you and then drags the mic stand around stage like she was in a stadium opening for the Who. She shines on the bands two best songs "Lassoo" and "The Step And The Walk." I kept thinking how much I missed the tambourine playing rocker and then she broke some decent blues harp. Now, here is the downside. Ms. Moss would do well to dump the band of sad-sacks that back her. The lack of light they brought was a black hole sucking the life away from this star on the rise. If they get to your town go and drink your beer. Liela's got that bottle hiding behind her like the hyperion she is.

Futurecop!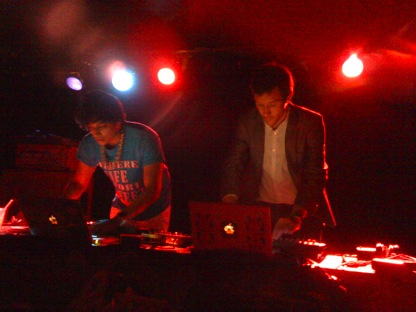 Mercury Lounge, NYC
23 January 2009
Futurecop! offered some really delectable dance treats at this small, rock venue. As the sad, stale sounds pumped out from the apocryphal mega-disco Element, the two Brit-Boys with synths and macs in tow pumped up the crowd with stylish harmonies and odd mixes. Yes, I found myself dancing to New Kids On The Block's "Step By Step" and that, my friends, is no easy feat. They could obviously have been playing to 2000 rather than 200 but they know that crowds at these small venues set the trends and remember the bands who move them. I definitely gained a measured respect for the duo. I just wish that I could have had a picture of the two dancers up front with harlequin makeup and costumes. It made for a sweet and sweaty beer buzz that will keep me smiling for weeks.