What's On The Hi-Fi Interviews


Bertrand
Burgalat is a truly impressive figure. He is at once a musician, producer, soundtrack composer (LES NUITS FAUVES), remixer, founder of the fabled French label Tricatel, and recipient of the Ordre des Arts et des Lettres from the French Cultural Ministry in recognition of his contribution to the arts. All the while,
Bertrand
has an immediate warmth and a refreshing sense of humility and approach to music and the world that surrounds it...
read more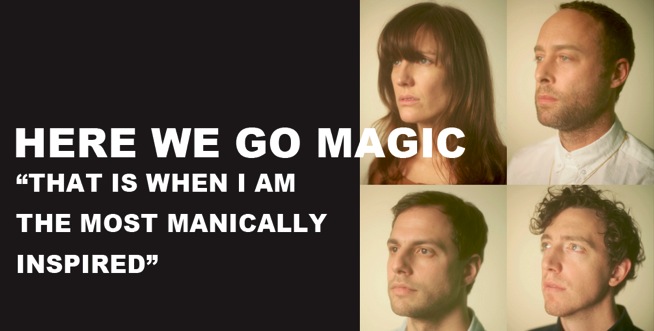 We recently sat down with Here We Go Magic's passionate front man Luke Temple on his trip through Paris to talk about the formation of the Here We Go Magic project, the majestic new release A DIFFERENT SHIP, and working with Radiohead producer / "sixth member" Nigel Godrich.
Having studied visual arts in Boston, Luke moved to New York City to pursue painting. However, becoming disenchanted by the painting culture and its financial realities, he began to explore music. Luke began performing at open mike nights on Mondays at the East Village's Sidewalk Café, alongside the likes of Kimya Dawson, Jeffrey Lewis and The Moldly Peaches. As to switching his focus to music, Luke explains that "[y]our brain doesn't notice the difference between any creative pursuit. It thinks that it's doing the same thing. [It's] the same process in a way. Writing a song, writing a record – it's painting. It just kind of took over."..
read more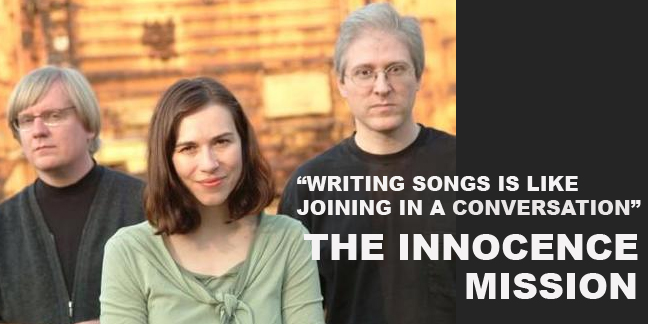 The Innocence Mission have been creating exquisite music for over 20 years, honing their distinctive sound over the span of 10 studio albums. At the heart of the project are Karen and Don Peris, partners in life and in the band, who have been joined by various collaborators over the years, including founding member Mike Bitts on bass. Drummer Steve Brown rejoins the band for the band's latest release called My Room In The Trees, out on Badman Recording Co....read more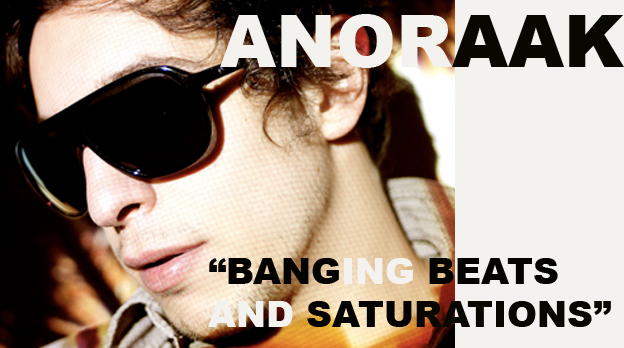 As a follow-up to some stellar singles including "Nightdrive With You," French electro artist Anoraak (a/k/a Frédéric Rivière) has released his excellent debut album Wherever The Sun Sets (on Grand Blanc and Naïve). The Valerie collective member continues to deftly play with retro electronic sounds and romantic grooves. The album's first single "Above Your Head" is available as a free download from the Anoraak MySpace page...read more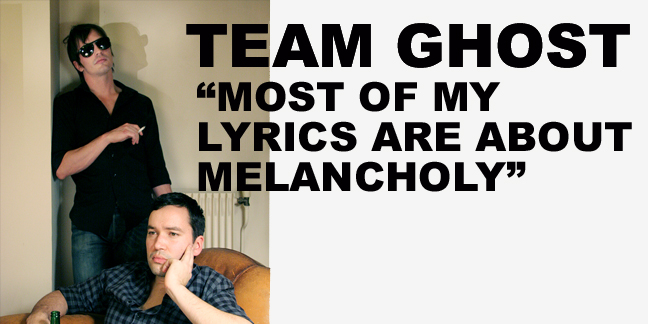 Team Ghost is the new project fronted by Nicolas Fromageau, co-founder of M83 with Anthony Gonzales. The two co-wrote M83's first two releases M83 and Dead Cities, Red Sea and Lost Ghosts. Before the release of M83's third album, Nicolas and Anthony parted ways, seeing Nicolas moving to Paris from the South of France. It was there that he formed Team Ghost, joined by multi-instrumentalist Christophe Guérin and producer / manager Jean-Philippe Talaga (founder of Gooom Disques). Nicolas and Christophe also formed a production team called Kiss Me First...read more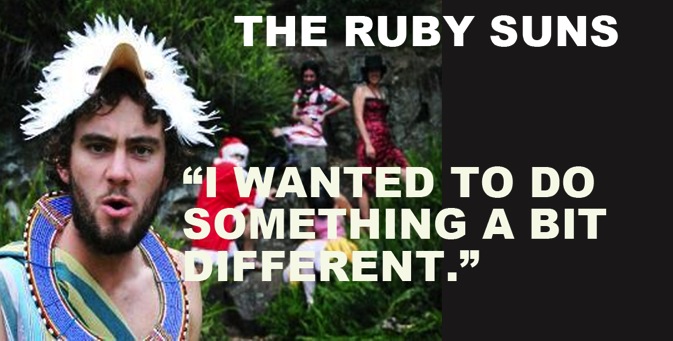 Maybe it's the album's infectious and hyper blend of tropicalia and modern pop, or the synth riffs and warped beats, or the exciting change-up unpredictability. Whatever the reason, we find ourselves coming back to bask in the melodic sunshine of the new release Fight Softly from New Zealand's adventurers The Ruby Suns.

Fight Softly is out now on Lil' Chief Records,Sub Pop, and Memphis Industries

We caught up with the band's frontman, songwriter and producer, Ryan McPhun, who shares with What's On The Hi-Fi what got him excited about making music, how the new release took shape and a few of the tracks which are now making the rounds on Ryan's hi-fi...read more.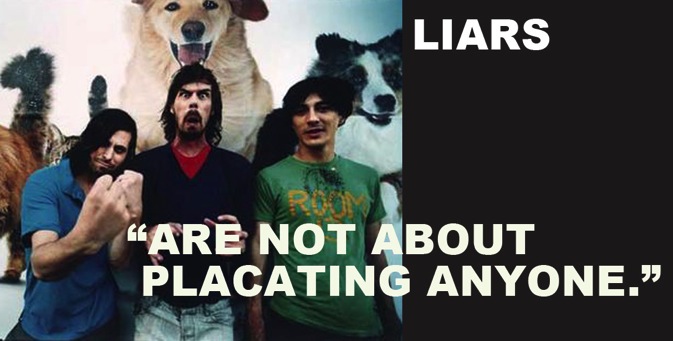 We had the chance to catch up with Liars' Angus Andrew on his recent trip to Paris for a quick chat about the upcoming release Sisterworld (to be released 8 March 2010 on Naïve).

Asked about what we can expect from the upcoming release, Angus explained that he and his band mates Aaron Hemphill and Julian Gross are known for taking tangents, and that this album is no exception. Sisterworld forms a natural progression from the band's earlier work, arguably taking a darker path, and incorporating layers of orchestration for the first time...read more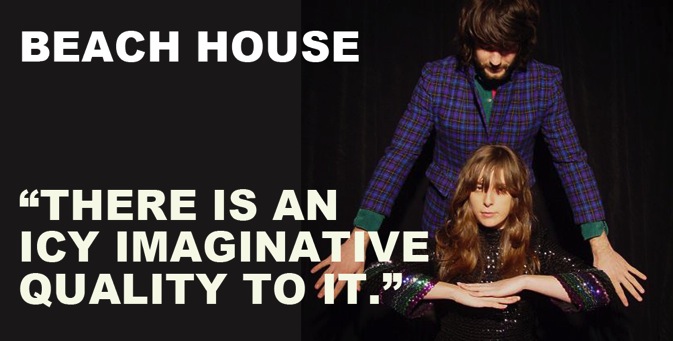 Baltimore, Maryland indie rock group Beach House has lived a charmed existence. For singer/organist Victoria Legrand and guitarist Alex Scally, it is a much-deserved success.

After just one year of playing together, the duo's first single "Apple Orchard" caught fire when they were included on Pitchfork's Infinite Mixtape in August 2006, and their subsequent full-length release Beach House garnered enthusiastic praise from alternative music fans and media alike...read more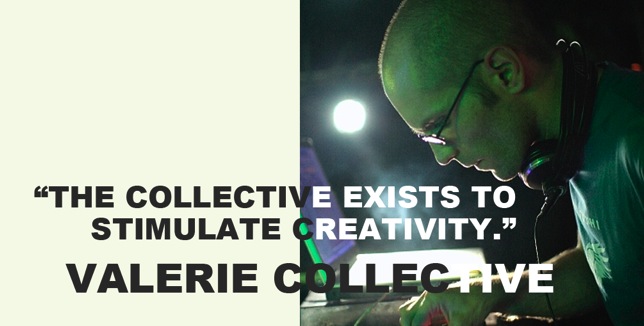 Hands down, the Valerie Collective is responsible for some of the very best original electronic music now coming out of France. And no, these sound are not coming from Paris as you might expect, but from further afield in Nantes in western France...read more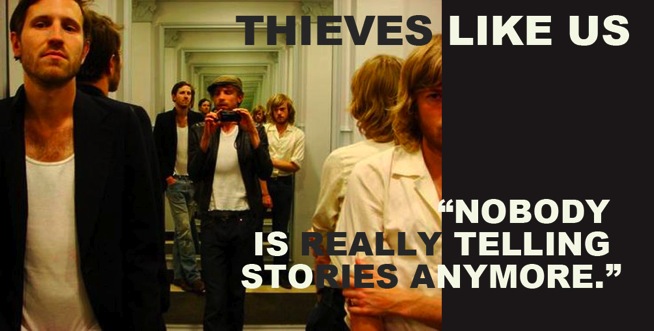 "Music for outsiders. Or I should say pop music for outsiders.", is the way that Andy Grier of Thieves Like Us succinctly describes the group's musical universe, a sound which refuses to slot neatly into any particular style.

Hailing from the US, Andy (vocals) met Swedes Björn Berglund (keyboards) and Pontus Berghe (drums) while living in Berlin. As a counter to the ubiquitous electro / techno scene, they started deejaying together, spinning a cross-over mix of tracks (to the befuddlement of Berliners) from Krautrock, Italo Disco to French filter house. They then formed Thieves Like Us and released their critically successful debut Play Music. This unconventional electro-pop soundtrack is often glacial and minimal, but tracks nonetheless resonate with a certain empathetic intimacy, side stepping becoming uninviting or aloof. With their latest EP Really Like to See You Again and work underway on their next long player, Thieves Like Us continue to develop their modern sound...read more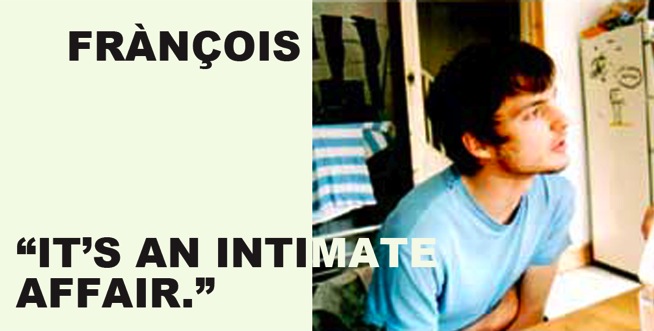 Frànçois is an artist (both musical and visual) who deftly melds the influences of his native France with those of his adopted home of Bristol. His lo-fi indie pop is at once warm and intimate and often unabashedly joyous. There is a welcome unhurried and ambeling feel to his naive songcraft and a soft reassurance in his reserved vocals, combining to lay out landscapes often plucked from Frànçois' passions and memories, as is the case on the beautiful EP Her River Raves Recollections. A true delight...read more.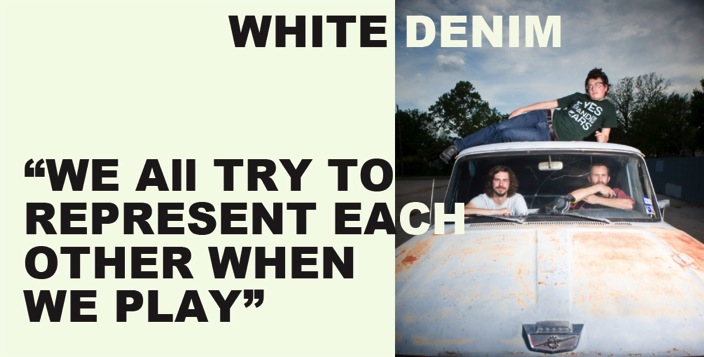 Austin-Texas rockers White Denim have put together a brillant and uncompromising sophmore release with Fits. The trio continues to move the goalposts from their 2008 debut Workout Holiday; playing with an amalgum of disperate sounds and rhtyms, agilely shifting (often mid-track and without warning) from garage rock, to blues, country, punk to psycadelica. Recorded in their trailer, tracks reel with howls, gigantic riffs, impressively tight and explosive rhtyms and reverberating inventive energy. It should be a complete pileup, but instead, it makes for a wonderfully chaotic and heady mix...read more.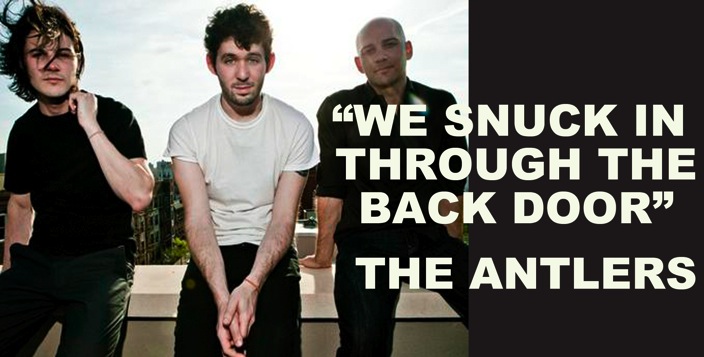 The Antlers are like the little band that could. Sneaking in the back door of success, as frontman Peter Silberman puts it. As the follow-up to their 2007 effort In the Attic of the Universe (though they also released 2 EPs – Cold War and New York Hospitals in 2008), Hospice has been making the rounds and garnering accolades from critics and fans alike...read more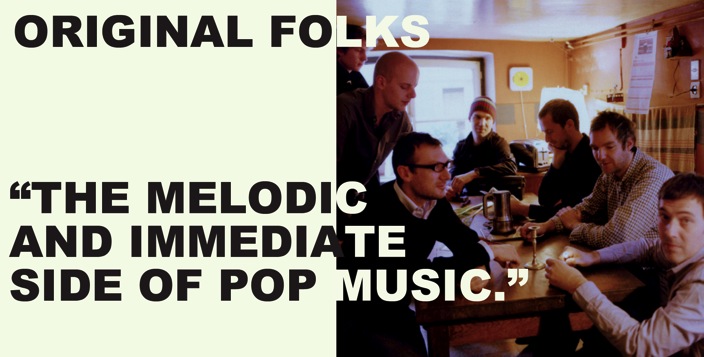 Original Folks is the French indie folk / pop project headed by vocalist and guitarist Jacques Speyser who has been performing under more or less personal aliases like Grand Hotel for the past 15 years. The sextet's well-received debut release Common Use has had a long gestation period -- 12 fleeting tracks which have been recorded piecemeal since 2006, mixed this past winter, and released this May on the French indie label Herzfeld. Nevertheless, Common Use has a marked coalescence, while allowing the songs to reflect an independent evolution...read more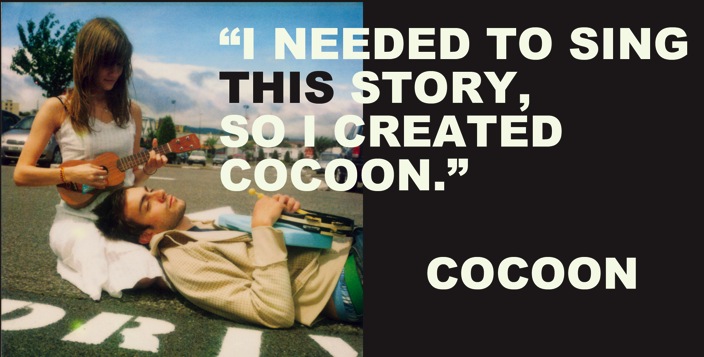 You could be forgiven for thinking that the title of Cocoon's first long player, My Friends All Died in a Plane Crash, was chosen for little more than dramatic effect. Sadly, the album as well as the formation of the group, was born out of darker stuff. The group's founder Mark Daumail explains that "the album came when I lost most of my friends and family a few years ago. I needed to sing this story, so I created Cocoon." Mark began Cocoon as a solo project in Clermont-Ferrand in south-central France, writing and posting songs on the internet. In late 2005, Mark sought to collaborate with a female vocalist and met Morgane Imbeaud, who to Mark was a natural and seamless fit...read more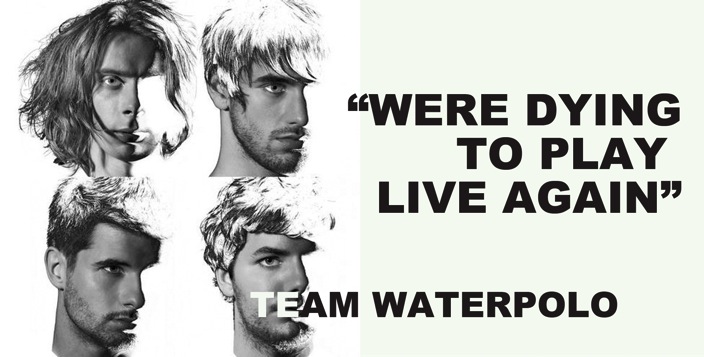 Brit indie-pop band Team Waterpolo has had a charmed and busy few years. Since forming in the city of Preston of Lancashire in 2007, the group has made some huge leaps ahead of the pack. Their accomplishments include a debut single "Letting Go'" garnering NME's 'Single of the Week', tour spots with the Black Kids and Supergrass, becoming a MySpace featured artist of the week, signing to Sony's Epic Records in August 2008, playing Glastonbury last Summer, and finally recording their debut at the countryside studio used by Alex Turner...read more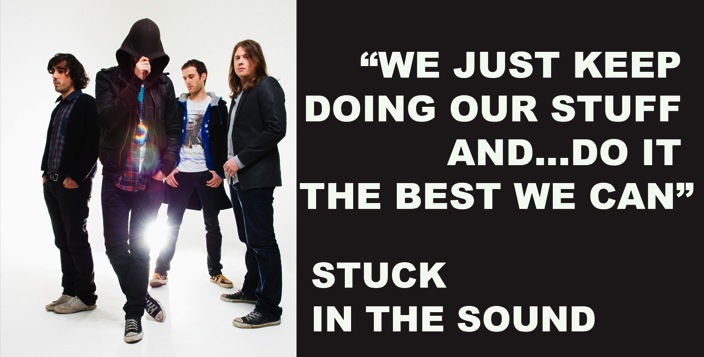 Since forming in 2002, Stuck in the Sound have succeeded in forging an indie-rock sound which is a rarity in French music. With their sophomore release, Shoegazing Kids, the group have solidified their critical and popular following with their energetic brand of hook-laden tracks and coaxing riffs. There is no mistaking Stuck in the Sound's strong 90's anglo indie influences, however, the group is careful to distil these references and explore their own sound...read more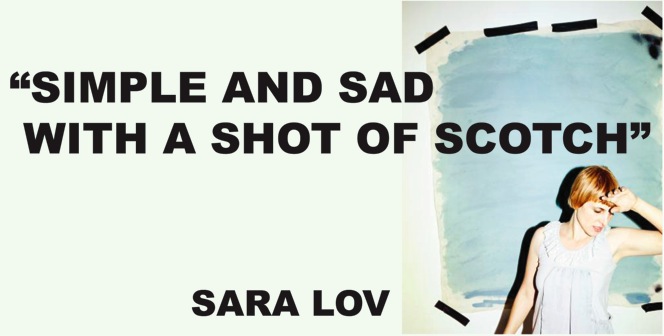 Rarely are Wikipedia pages as immediately intriguing:

"Singer / songwriter Sara Lov was born in Hawaii and later was raised by her mother in Los Angeles after the divorce of her parents. At the age of four she was kidnapped by her father and taken to Israel. Sara Lov lived there with an international fugitive from justice until a decade later when an uncle brought about her repatriation to the United States."

Against this rather harrowing childhood backdrop, Sara grew up in LA and went on to form the dream-pop duo Devics in 1996 with Dustin O'Halloran. After several critically acclaimed releases (released independently and through Bella Union), both Sara and Dustin decided to put Devics on hold to pursue solo projects.

Sara's first solo effort, Seasoned Eyes Were Beaming (Nettwerk), is a confident release of stripped down beauty. Sara has said that her sound is "simple and sad with a shot of scotch", a description which does not betray the warmth of Sara's heady melodies which, upon closer listen, often belie a clever lyrical bite...read more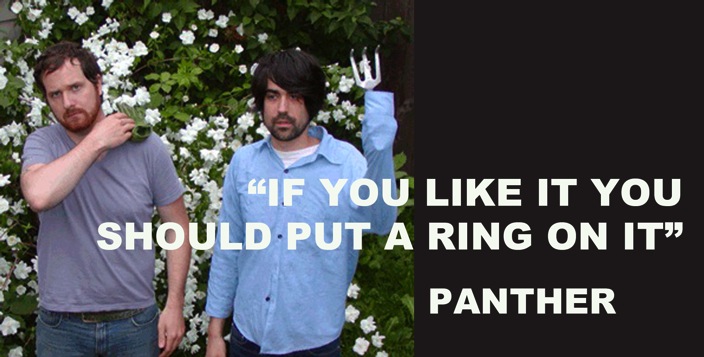 Discreet? No. Uncommon and outspoken? Yes. Honing their skills in Oregon since 2001, funk-electro outfit Panther is taking their raucous stage presence to the mild mannered venues of Europe. Led by the inspired guise of Charlie Salas-Humara the duo seek to change, divide and improve on their freshman effort Secret Lawns and conquer new fans on 14kt God...read more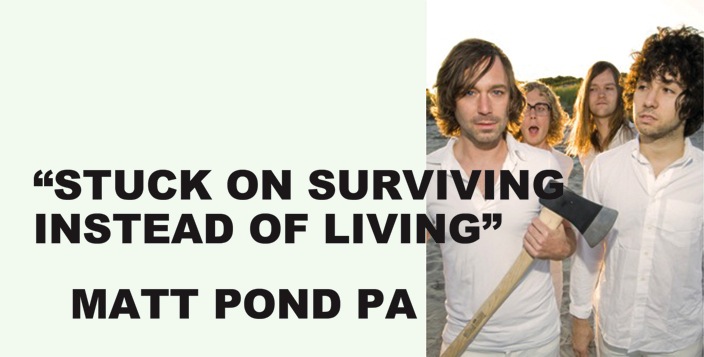 While his collaborators may have changed since the group's beginnings in the late '90's in Philadelphia to its current Brooklyn-based line-up, Matt Pond remains solidly at the heart of the ever-evolving group that bears his name, Matt Pond PA. At their very best, the band's hook-laden tracks sparkle with a lean indie-pop clarity...read more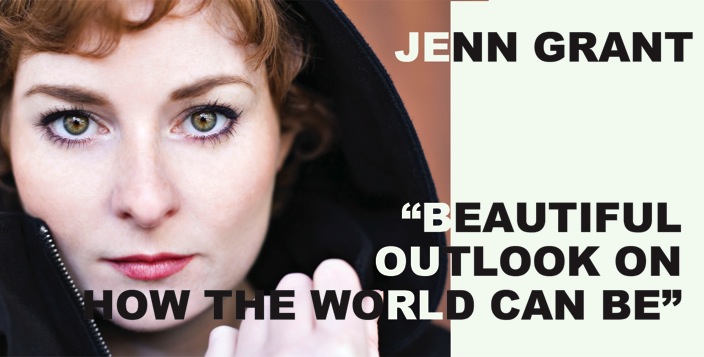 Recently, we caught-up with Jenn Grant, whose world is suddenly bustling with the release of her album Echoes released earlier this month on Six Shooter Records. The Halifax, Nova Scotia - based singer / songwriter is riding a comet of well-deserved buzz which has landed her a showcase spot during Grammy Week in Los Angeles...read more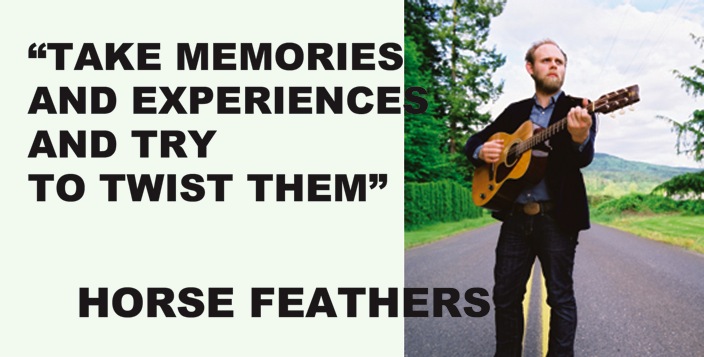 Without hesitation, Horse Feathers' second album House With No Home is one of our favorite releases of 2008. The group is led by Idaho-native / Portland-based Justin Ringle, who sings, writes and plays guitar, and he is joined by brother/ sister Peter and Heather Broderick on strings and vocals...read more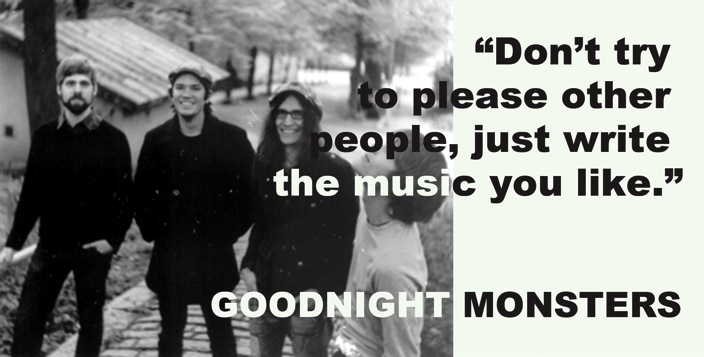 Chalk it up to long Nordic summer days or a certain wistfulness brought on by winters that last just that bit too long. Whatever the reason, Turku, Finland-based Goodnight Monsters have a clever knack for creating infectious, summer-inflected, indie-pop songs. The tunes are bright and blissfully uncomplicated and lack a certain polish, and they are undoubtedly all the better for it...read more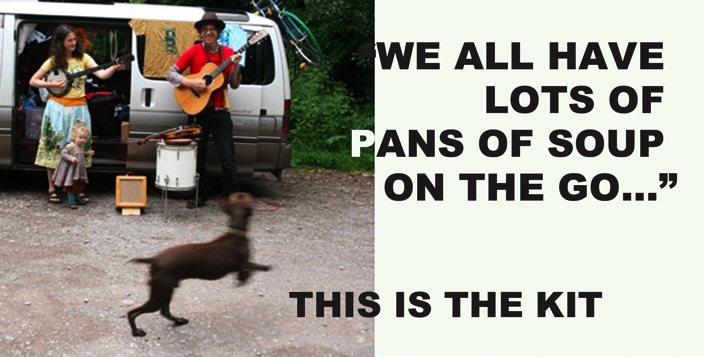 We had the pleasure of speaking with the talented multi-instrumentalist and singer / songwriter Kate Stables about her project This is the Kit and the beautiful debut album Krülle Bol.

Now living in Paris, Kate started writing and playing music in her home town of Winchester and later in Bristol where she co-founded the band Whalebone Polly with friend Rachel Dadd and began working with her partner Jesse Vernon on the project Morningstar. It was there in 2005 that Kate began This is the Kit, the spirit of which she describes simply as "writing my songs and playing them, with people joining in along the way"...read more