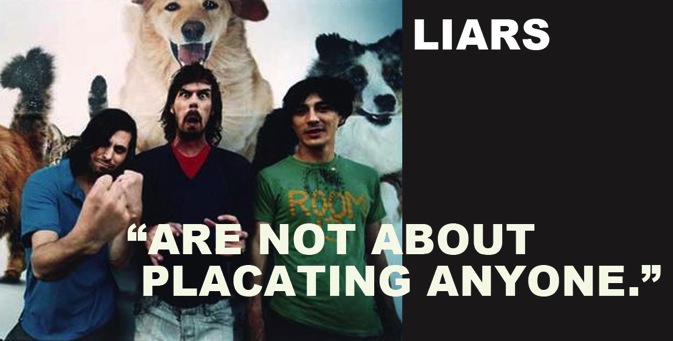 Listen to "Scissor" MP3
We had the chance to catch up with Liars' Angus Andrew on his recent trip to Paris for a quick chat about the upcoming release
Sisterworld
(to be released 8 March 2010 on Naïve).
In order to prepare for their earlier release
Liars
(2007), the band went back and immersed themselves in sounds that they liked as kids, bands such as OMD, The Cure and Siouxsie and the Banshees. However, this time around, the band looked closer to home. Angus explained that they looked to their current home of LA, with an eye to trying to understand how it works -- getting a view of the city's underside. A city, which Angus explained, has its share of rejected people. And if there is a theme which connects the songs on
Sisterworld
, it is about being uncomfortable in one's own place and looking for an escape -- what Angus calls a "Sisterworld".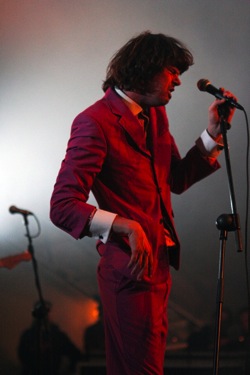 In conjunction with
Sisterworld
, Liars have embarked on an ambitious project of including a remix / reinterpretation of each of the album's 11 original tracks. Angus explained that this project took on a life of its own, against a background where remixes tend to be stale and boring. The idea behind the project was to collaborate with artists who are not particularly known for doing remixes -- to invite these artists to reinterpret the tracks on
Sisterworld
. Angus admits to being a bit surprised at the warm reception of artists to the project -- all of whom are artists which the band admires and continues to enjoy (e.g., Thom Yorke, Melvins, Tunde Adebimpe (TV on the Radio), Bradford Cox (Deerhunter / Atlas Sound) -- full tracklist below).
In the past, the band has spent stretches of time living and working in Berlin. Angus explains that he was attracted to Berlin since it provided a certain alienation, having moved there from NYC. In Berlin, Angus was removed from media sources and able to focus on creating music. At the same time, Berlin presented various difficulties - not knowing anyone or the language, a place where even buying a guitar string was a particular challenge. And now, the band is really enjoying LA. As Angus puts it, LA is like coming home and recording in your parent's bedroom.
As to the group's appeal, Angus believes that part of this attraction may relate to the band's integrity. For Angus, Liars are not about placating anyone - they are making music for themselves, regardless of what others might be saying.
Liars will be heading out on tour next month throughout the US and Europe. Check the group's official website for tour information
here
.
What's on Angus' Hi-Fi?
PJ Harvey, "My Beautiful Leah": A track which has been personally influential for Angus. There is a bass sound on this track which Angus has tried (and continues to try) to replicate.
Bauhaus, "All We Ever Wanted": A spooky classic.
Psychic TV, "Just Drifting": Angus loves the lyrical content, and, well, the weird sense of drifting.
OMD, "Waiting For The Man": This version gives the original Velvet Underground classic a new lease on life.
Blond Redhead: "In an Expression of the Inexpressionable": This is a track which Angus first came across before he started to make music. For him, this a track which makes one realize the possibilities of song craft, the idea that songs can be more of an idea -- providing the inspiration to think of possibilities.
Sisterworld
- Reinterpretations Tracklist
Scissor - By Pink Dollaz, Lance Whitaker & Transformation Surprise
No Barrier Fun - By Duetonal (Alan Vega / Suicide)
Here Comes All The People - By Atlas Sound (Bradford Cox)
Drip - By Kazu Makino (Blonde Redhead)
Scarecrows On A Killer Slant - By Tunde Adebimpe (TV On The Radio)
I Still Can See An Outside World - By Boyd Rice (NON)
Proud Evolution - Thom Yorke 500qd Remix
Drop Dead - By Fol Chen
The Overachievers - By Devendra Banhart & The Grogs
Goodnight Everything - By Melvins
Too Much, Too Much - By Carter Tutti (Throbbing Gristle)
Liars (Official)
|
MySpace