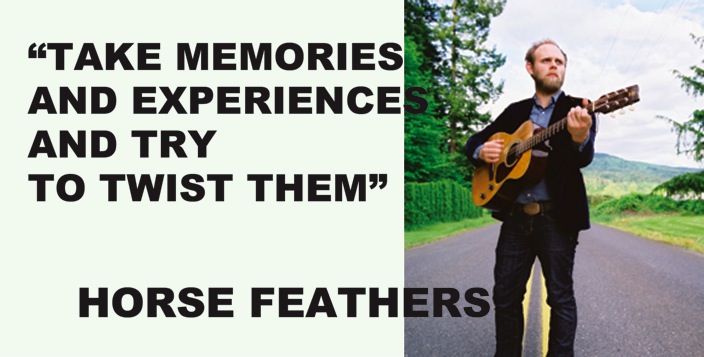 Without hesitation, Horse Feathers' second album House With No Home is one of our favorite releases of 2008. The group is led by Idaho-native / Portland-based Justin Ringle, who sings, writes and plays guitar, and he is joined by brother/ sister Peter and Heather Broderick on strings and vocals.
Justin writes songs which are delicately crafted and nuanced -- songs which on first blush may simply appear sparse until they build only fleetingly before (and often suddenly) disappearing. The tracks "Curs in the Weeds", "Working Poor" and "Road to Ruin" are stand-outs of this ebb and flow style, each song slowly growing, layered carefully with textures of cello, strings and vocal harmonies. Other tracks like "This is What" and "Albina" bound along, pausing briefly, at a pizzicato clip. And suspended over it all are Justin's vaguely weary and haunting melodies.
Horse Feathers has succeeded in creating an album which is best enjoyed as a whole, allowing Justin and his band to tell, in their time, their uniquely evocative and melancholy tale.
Justin talks with What's On The Hi-Fi about the band's new release, the move to Kill Rock Stars and his upcoming tour dates in Europe.
The overall sound of House With No Home appears to be more sweeping and broad than that of Horse Feather's debut album Words Are Dead (2006). Could you tell us how the group's sound has developed and how you approached the new album?
It was kind of a natural progression in a way from the first record. I really wanted to flesh out this record with more orchestration to fill in some of the spaces in arrangement from Words Are Dead. I had started playing with Heather Broderick since the first record and by having the cello being more of a consistent voice in the record certainly added to the broad sound you are talking about.
Could you tell us about the move to Kill Rock Stars (renowned Northwest US independent record label, notably home to some of the best 90's underground indie / punk releases from the likes of Bikini Kill and Sleater-Kinney)?
It is kind of a dream come true. I still pinch myself thinking that I really couldn't be on the same label that had put out so many great records that I had listened to growing up. I am originally from Idaho, and I was always keen on all of the Northwest regions labels since I was a teenager. It's kind of a home town pride thing especially now that Kill Rock Stars is based out of Portland. I really respect them and what they do.
Where does Horse Feathers' music come from? What are your influences?
I don't really know precisely where it comes from. I pick up a guitar, and I sing and put ideas together. I play with accompaniment. In between those things, I swear it comes out from the blue. Past experiences and fictional accounts of different situations are usually my starting points.
I have definitely been influenced by geography, and I think where I live sneaks into the music on an emotional level. The Pacific Northwest isn't necessarily the brightest place, and for me that has had an effect on the music I write. I love words too . . . the way they can have such an impact as single ideas in a song interests me. Poetry has been influential for me as well, particularly, in how it can focus on the aesthetic function of language and words.

Your songwriting often takes on weighty themes, which sometimes only seem to reveal themselves upon closer listen, such as betrayal and alienation ("Curs in the Weeds" speaks of familial alienation; "Working Poor" which begins with the opening lines "We are young, we are weak / just as blank as we are bleak"). Could you tell us about your choice of subject matter and how you approach songwriting / arranging?
I try to put myself inside subjects and themes that draw me in emotionally. They are just ideas and threads of stories that make me feel something. I am just putting those feelings into the form of a song and not much more than that. Some things are autobiographical but in a round about way. I take memories and experiences and try to twist them around until I feel like there is something there on a visceral level that expresses something. If people relate to it and can somehow make it something subjective, in the end it makes it that much better, but I don't think about that while I am working on songs.
Have you been surprised at all by the critical and popular reception of House With No Home?
I have always been surprised by the reception of both of the records. When you take songs that you have written in your room and then put them out there, when people like it, yeah, it always feels surprising. I am glad people enjoy the music.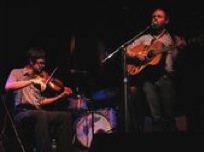 You are about to head out on tour for several dates in France, the UK and Belgium (including, La Maroquinerie in Paris on 24 February and The Luminaire in London on 2 March). You have been out touring for a while now -- are these the first dates for Horse Feathers in Europe? How did the European leg of the tour come together? Any stops that you are particularly looking forward to?
We did some UK dates this fall with Jose Gonzalez and one show in Brussels. I am really excited to do more continental dates this time around and to go to more places in the UK as well. I am excited for all of it really!
What's on your hi-fi at the moment?
Robert Johnson's King of the Delta Blues Singers
Neil Young's On the Beach
Willie Nelson's Red Headed Stranger
I have been listening to the old stuff lately . . . .