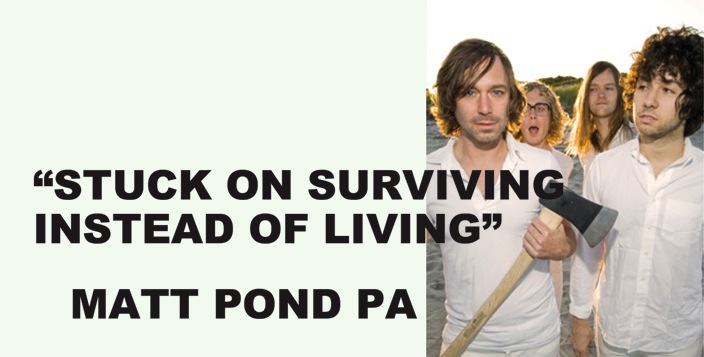 While his collaborators may have changed since the group's beginnings in the late '90's in Philadelphia to its current Brooklyn-based line-up, Matt Pond remains solidly at the heart of the ever-evolving group that bears his name, Matt Pond PA. At their very best, the band's hook-laden tracks sparkle with a lean indie-pop clarity.

As work continues on the next full-length release, the group has released a 9-song EP entitled The Freeep, available as a free download on the group's site.

Matt talks to What's on The Hi-Fi about The Freeep, work on the next full-length album, the unique energy of New York, slaying cynicism and grabbing at the past.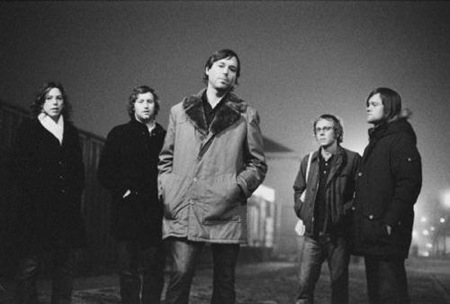 Could you tell us about how The Freeep came together and how you decided to release the EP as a free download on your site?
Chris and Dan and I wanted to do something for the sake of doing it. No expectations, no grand exclamations. Something as modest and pure as our modern, tainted hearts could allow.
The idea was simply acceptance -- of oneself and of those around. These days everyone wants to mold themselves into the idea of what they think they should be. With edited profiles and pictures, we hardly communicate what we haven't polished. We seldom truly speak.
The EP was a release from fear--from our own, and for anyone else who wanted to listen.
You have included multiple instrumentals on the EP (including our favorite "#3"). Is this a new direction or something that just made sense on this project?
Those instrumentals are actually the work of Chris Hansen -- maybe I should say that a little louder, 'Christopher Morgan Hansen'!
We wanted several non-verbal threads running through the narrative. Wordless explanations. Somehow from being stuck together in a cabin for months, he was able to convey the meaning of the thread without a vocal melody or lyrics.
Chris is a champion.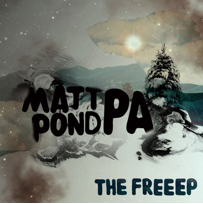 Is The Freeep a teaser for a new full-length album? Is one in the works?
The Freeep is the forgiveness. The next is the non-religious sense of seeing the light. Or it can be religious. Sacred or secular -- songs can be interpreted however the listener likes.
We've been working on the next album for a couple years. We're trying to 'get it right'. I don't know what 'getting it right' means. It could very well mean 'screwing it up' or 'making a mess'. We certainly have enough songs for a proper mess.

There is a lot of focus on Brooklyn (your adopted home) now as a hot bed for new music. Why do you think that is? Is there a sense of a musical community?
I love Brooklyn. It fueled three albums. Maybe too many songs. There's an energy inside New York unlike anything else. Almost like the taste of a fully charged battery.
To be completely honest -- I love music, but I'm not always keen on the larger groups. Perhaps it's a form of mental claustrophobia. The necessary basis for me to participate in a community is a certain sense of altruism. Sometimes, lately it seems to be missing or amiss.
To be completely true -- I tend to keep to myself. It's a struggle to slay cynicism and bite off bitterness.
These days I spend most of my time upstate in a cabin, following packs of roaming deer with their seasonally thick fur. Irresistible in my exile. And yet they hardly seem interested in my embraces.

The image of an axe figures occasionally in a your videos and cover art (in your hands, casually propped up against a wall). Any particular significance there?
The axe isn't for the outside world. The axe is for me.
It's completely unnecessary to attack the beliefs of others to get anything done. All those glorious ghosts on the internet being so damned hateful. It's a curious time. Makes me question whether we're moral without an imperative. If there's no repercussion or ruling written in stone, is it acceptable to hurl senseless vitriol onto message boards, anonymous posts? Yes? Ok. I'm fine with missing the target.
I believe in fighting for what I believe. Self-struggle, self reliance, personal triumph. The only way to please ourselves is to please ourselves (please take that bit in the least carnal way as possible).
I might have weaved some of these questions into my constant distraction. Ultimately, I believe our existence is incredible. Axe or no axe.
You recently set off to explore Barcelona. What brought about the trip?

Sometimes I get stuck on surviving instead of living. The most massive mistake.
I'd been in Barcelona last September, and I'd never felt more alive, never more inside of a moment.
Even though it's a bad idea to try to relive the past, I went back to grab some more.
This time somehow surpassed the last. I wandered everywhere. I walked, ate, drank, slept, wrote and walked. Repeat. From the hills down through the cavernous alleys, criss-crossing myself and constantly, blissfully lost.
The strangely optimistic outcome of this financial crisis is that we can do everything to work and struggle and invest in a future -- and yet that future may never arrive.
What's on your hi-fi?

Listening to . . . Lykke Li's Youth Novels, a perfect piece of gentle intention and sweet, sweet production. Brooklyn bands such as Weird Owl for psychedelic revolutions and Ratatat for dance revolutions. She Keeps Bees should be much more widely known. She's like a bluesy Woody Allen. I know it sounds wrong and strange -- instead it's raw and beautiful.
Right now I'm stuck on the latest Lily Allen. Over and over and over. I would marry Lily Allen and accept a life of derision. I would.
And always a heaping of Mahler. Because of his beautiful huge heavy handedness. (please take that last 'hands' bit as devoid of any deeper meaning).
Matt Pond PA (Official)
|
MySpace