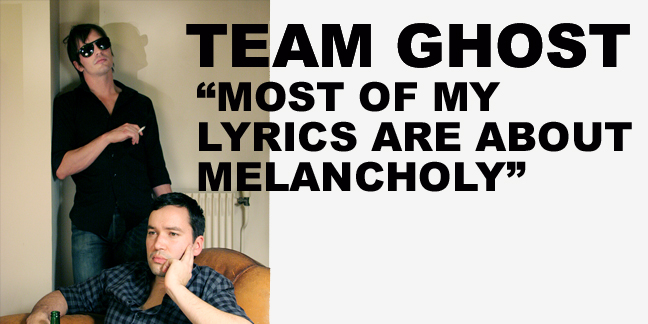 Team Ghost is the new project fronted by Nicolas Fromageau, co-founder of M83 with Anthony Gonzales. The two co-wrote M83's first two releases
M83
and
Dead Cities, Red Sea and Lost Ghosts
. Before the release of M83's third album, Nicolas and Anthony parted ways, seeing Nicolas moving to Paris from the South of France. It was there that he formed Team Ghost, joined by multi-instrumentalist Christophe Guérin and producer / manager Jean-Philippe Talaga (founder of Gooom Disques). Nicolas and Christophe also formed a production team called Kiss Me First.
Against this backdrop, Team Ghost has released their first EP
You Never Did Anything Wrong To Me
next month on the UK's Sonic Cathedral Records. Along with being available as a digital download, the release is also be available as a limited edition black and white 10-inch vinyl.
We caught up with Nicolas who shares with What's On The Hi-Fi a bit about how Team Ghost came together, making a move to Paris, the decision to release
You Never Did Anything Wrong To Me
as an EP, and late night bedroom listening sessions.
Listen to "A Glorious Time" MP3
Could you tell us a bit about how Team Ghost came into being and how you all met up (Nicolas, Christophe and Jean-Philippe)?
Christophe and I created Team Ghost in 2007, we are friends since we were 15, and it's a pleasure to play music with him, as he's such a great musician. Jean-Philippe used to be the manager of M83 and, as I've been working with him for years, I trust him so much! His advice is always so helpful -- he's a great producer!!
You relocated to Paris from the south of France. Looking back on this now, what do you make of the move?
Oh, I really enjoy living in Paris -- it's a great city! In France, it's easier for a band to find gigs or a label when living in Paris. Of course, I miss my friends and my family, but I love big cities. Paris is quite a perfect place for living.
How did the production team Kiss Me First come together?
When we started recording for the EP, we had no label yet, so the three of us needed to create Kiss Me First.
Your EP You Never Did Anything Wrong To Me is out now. Could you tell us about the decision to make the release an EP (as opposed to a long player)?
Oh, we wanted to start with an EP, even if we already had many songs. It's cheaper to release and, for me, it's a good start. Now we are working on an LP!
"A Glorious Time" is one of our favorite tracks from the new EP. The track seems to speak of a certain nostalgia, a feeling which (to us) also appears to run through other tracks. Is this off the mark?
That's true. This song is about nostalgia, and about leaving the people you love when you move from your hometown. Most of my lyrics are about melancholy, feeling lonely, missing someone, etc. But I'm quite a funny guy in real life (well, I hope so)!
When you close your eyes, where do you imagine your music being listened to?
In a bedroom, at night, with your (boy/girl) friend. Oh, and with a big joint, it's perfect.
What do you get most out of playing live? Any cities that you particularly enjoy playing?
I love playing live! No matter where in fact. When we do a good gig, it's always a perfect moment for me, I love it!
Is there any artist who you see as creating particularly creative and innovative music?
Superpitcher!
He's my hero, and I want him to remix one of my songs someday. His song "Irre" changed my life, and now I'm really into German minimal house music.
What is on your hi-fi at the moment?
Slowdive Slowdive Slowdive Slowdive Slowdive Slowdive Slowdive! Oh, and the new LP of Crystal Castles, some tracks are incredible! Joy Division and, well it's kinda weird, but I'm into punk rock these days like The Clash's early recordings, Ramones' "Rocket to Russia", The Damned's first LP, and The Stranglers.
MySpace
|
Sonic Cathedral Records