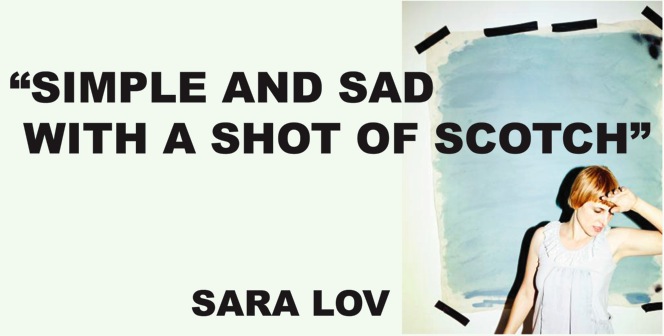 Rarely are Wikipedia pages as immediately intriguing:
"Singer / songwriter Sara Lov was born in Hawaii and later was raised by her mother in Los Angeles after the divorce of her parents. At the age of four she was kidnapped by her father and taken to Israel. Sara Lov lived there with an international fugitive from justice until a decade later when an uncle brought about her repatriation to the United States."
Against this rather harrowing childhood backdrop, Sara grew up in LA and went on to form the dream-pop duo Devics in 1996 with Dustin O'Halloran. After several critically acclaimed releases (released independently and through Bella Union), both Sara and Dustin decided to put Devics on hold to pursue solo projects.
Sara's first solo effort, Seasoned Eyes Were Beaming (Nettwerk), is a confident release of stripped down beauty. Sara has said that her sound is "simple and sad with a shot of scotch", a description which does not betray the warmth of Sara's heady melodies which, upon closer listen, often belie a clever lyrical bite.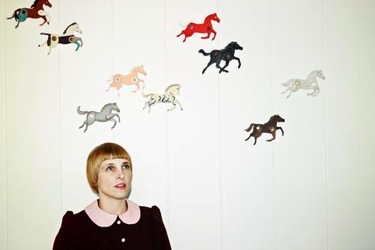 Seasoned Eyes Were Beaming is your first full-length solo release. How has it been striking out on your own?
It's been a very wonderful and liberating experience. I think somewhere inside myself I'd always wanted to do something on my own but never thought
I could. I do have a lot of help from some wonderful musicians and also the amazing Zac Rae who produced this record and is very much a big part of how it sounds so in a way I'm not really alone, but still, it's been a very great experience.
There seems to be a certain sense of nostalgia on the new album. Is this off the mark?
I'm not really sure. I have been hearing people tell me that my writing is somehow different or changed, but for me it doesn't feel so. I always just write about what I'm feeling. I don't try to write things specifically. Sometimes I write about dreams, and sometimes the music inspires a certain feeling or mood, and I try to bring it out in the words. I think I have always had this nostalgia. I do realize that my writing could be seen more clearly by someone other than myself, so I am open to the comments.

Your duet "Animals" with Alex Brown Church is one of the standout tracks from the new album -- not because it is the only duet, but because it unexpectedly pairs a jaunty naive melody with a direct lyrical darkness ("What kind of animal are we? I should have never let you into me.
But I never, never learned to swim, until you came around and pushed me in"). Could you tell us about this song?
I don't really like to interpret my lyrics. I feel that it ruins it for the listener. I would rather hear what it means to others. I will say that it is a break-up song and it means a lot to me. As for the rest of the parts, I really wanted to do a duet and I really wanted it to be with Alex. He is a very dear friend of mine, and I am absolutely in love with his music and voice. I asked him, and he said yes before I had even finished writing it. I think I finished all the lyrics the night before we went in to record it. I love duets especially when they play on the male vs. female perspective. I wrote the song very simply on the guitar, and the finger picking was actually Dustin's idea.
You are out on tour until early May, joined on certain dates by Audrey, throughout Europe, including shows at Bardens Boudoir in London on 22 April and Café Zapata in Berlin on 27 April. Along the way, you have been posting "Behind The Music" videos of the tour (including a video shot in the plane with you and Scott Mercado telling the trying tale of the overweight piano). Are you actually having as much fun on tour as it looks?
Yes! I love touring. There have been some difficult moments too, and I don't always have the camera on. But for the most part we are having an amazing time together. Audrey are incredible people, and we have become great friends and have been laughing a lot. It's a treat to hear their beautiful music every night as well. Tomorrow is Toulouse (18 April), and our last show with Audrey, we are all really sad about it.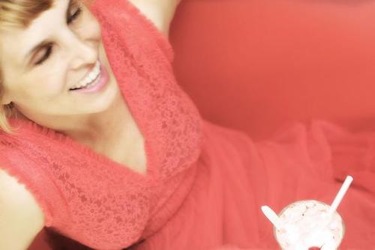 You have started a "Covers Series" project (including "Asleep' by The Smiths and "Kissing Families" by The Silversun Pickups). How did this project come together?
It started just for fun. I am a huge music fan after all. It's music that inspires me the most of anything. It brings me the most joy, and after doing the Arcade Fire and Beck covers on my EP a lot of people started emailing me suggestions of other songs I should do so I thought why not? There will be a lot more to come but for now we haven't had much time on tour to do anything like that. I have some fun ones planned for when I get back. Also, while I am in Berlin if Dustin has the time we may do one together.
What's on your hi-fi at the moment?
My current favorite is Middle Cyclone by Neko Case. She is one of my favorites of all time, and I think her new record is pure perfection. The lyrics are beautiful, the songs and their arrangements are perfect. I have no other word to describe it but perfect. It's also a really fun record to sing along to.
Ane Brun's Changing of the Season is wonderful, it's not new, but I listen to it daily. Also the new Grizzly Bear I am falling in love with.
Sara Love (Official)
|
MySpace