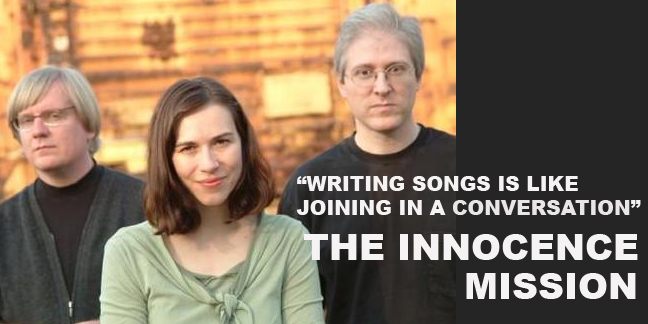 The Innocence Mission have been creating exquisite music for over 20 years, honing their distinctive sound over the span of 10 studio albums. At the heart of the project are Karen and Don Peris, partners in life and in the band, who have been joined by various collaborators over the years, including founding member Mike Bitts on bass. Drummer Steve Brown rejoins the band for the band's latest release called
My Room In The Trees
, out on Badman Recording Co.
The Innocence Mission are rare in their ability to create songs which, both lyrically and musically, connect on an emotional level with listeners -- like walking into a room filled with your favorite people, everyone laughing and catching up, immediately comfortable and bright, bringing the warmest of smiles to your face.
We caught up with Karen who shares with us about
My Room In The Trees
, on hearing songs from earlier albums, working as a partnership, upcoming projects and what's on the Peris hi-fi.
Listen to "Rain (Setting Out In The Leaf Boat)" MP3
The band's latest studio release is My Room In The Trees. Could you tell us a bit about how this release came together and what inspired it?
It came together gradually, over the past couple of years. Mostly what inspires the writing, and then the sharing of the songs is just wanting to, or even needing to, communicate in some way. I always feel tongue-tied in conversations. I am much better at listening to someone else speak. So writing -- the luxury of being able to take the time to work with words and sounds and colors, not to mention the joy of just playing and singing, discovering melodies and they way they move over chords -- it is something I never get tired of, something I'm always grateful for.
The self-titled debut for The Innocence Mission came out back in 1989. What goes through your mind when you listen to these songs now? How do you see your sound as evolving?
To tell the truth, it is painful for me to hear that album, so I avoid it. While the experience of making the first two albums was a happy and exciting one for us, I am embarrassed about the writing and the singing. I was young enough to be trying to sound like someone else, and if I were to hear those albums it would be hard to recognize myself in them. The records we have made since then -- since
Birds of My Neighborhood
onward -- I still feel close to those songs, and the way they sound is probably true to what we are still striving towards.
We have always been struck how many songs appear to capture a certain closeness, both lyrically and musically -- songs that seem to welcome you into a personal and relaxed setting. Is that part of what you look to create?
I'm glad that you think this about the songs. I always have the feeling that writing songs is like joining in a conversation with other people. I've been glad for the experience of feeling a connectedness in reading or listening to someone else's writing. I'm happy if someone who hears our songs can feel that way.
When you close your eyes, where do you imagine your songs being listened to?
I don't know. The letters and e-mails we've received are written, in the kindest voices, from many different places, which never stops being a surprise to me.
What it is like to work with your partner?
It is something that is so natural. I never have to question it, but I am grateful for it, to be able to work with Don. I think it is a great help to have the energy of two people, two friends working with a shared purpose.
If you could create any type of music with complete anonymity, would you create something completely different?
Maybe not completely different. But it would be an adventure to make a wholly instrumental album. Or the reverse, an album that has very ambient group singing, with a large group of people.
What artists do you see as currently creating particularly creative or inspiring music?
Sufjan Stevens, Fleet Foxes, Mark Kozelek, Yann Tiersen
Can we expect any solo projects in 2011?
Maybe something from Don. I am working on another children's album, not lullabies this time, but I don't know when I'll be able to finish it.
Where have you been most surprised to find inspiration?
A tube of watercolor paint, the name of the color was geranium lake, which I thought was the most wonderful, visual name.
What is on your hi-fi?
Van Morrison, the song "Fair Play" from
Veedon Fleece
. This is one of my very favorite songs / recordings, and I just have to hear it at least from time to time. This is a very moving piece of music, and it has a quality and a space that I can't put into words. And the lyrics of this song, too, are so visual. I hold them up as an ideal.
The Rachels,
Music for Egon Schiele
. This is such a beautiful record, and I listen to it a lot with my kids, who play violin, viola and piano, the main instruments in this band, along with cello.
Pablo Cassals, "Song for the Birds", from the 1961 concert for President and Mrs. Kennedy. Don found this recording this week, from a news story about this concert, and we have been listening, mesmerized by this, all of us.
Vashti Bunyan, "Train Song". This always affects me strongly. It is the beauty of her voice, and also the great atmosphere of the recording.
Music from the film
Amélie
by Yann Tiersen. We play this at our house at least a couple of times a week. I love this music. I love the simultaneously melancholy and joyful sound of the accordion-based songs and also all of the piano. I have wanted to play the accordion, especially out of love for this album. Don gave me one for Christmas, and I am trying to play it. Right now it is a bit less like playing and a bit more like a wrestling match (the accordion is winning).
Official
|
Badman Recording Co.