You could be forgiven for thinking that the title of Cocoon's first long player,
My Friends All Died in a Plane Crash
, was chosen for little more than dramatic effect. Sadly, the album as well as the formation of the group, was born out of darker stuff. The group's founder Mark Daumail explains that "the album came when I lost most of my friends and family a few years ago. I needed to sing this story, so I created Cocoon." Mark began Cocoon as a solo project in Clermont-Ferrand in south-central France, writing and posting songs on the internet. In late 2005, Mark sought to collaborate with a female vocalist and met Morgane Imbeaud, who to Mark was a natural and seamless fit.
The duo set out to develop a shared sound, creating seemingly carefree and serpentine folk harmonies, with Mark on vocals, guitar and ukulele and Morgan on vocals and keyboards. The duo's first EP,
From Panda Mountains
, reached France's Top 40 charts, and the group went on to win Les Inrocks' CQFD award for best new act in 2007.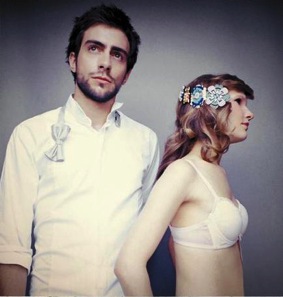 Mark and Morgane's debut album
My Friends
... has been a long time in the making and supporting -- work began on the album in 2007, and it was released in France later that year (Sober & Gentle) and in the US (on Minty Fresh) only last month. The album has been warmly received by the French critical press and fans alike, and the single "On My Way" (arguably the group's strongest track) was one of the most frequently played tracks on French radio last year. Many of the tracks break with the expected by coupling light and shiny melodies with rather dark and strange lyrics and imagery. This is a contrast which Mark finds intrinsically appealing, "we don't like things to be all happy, or all sad, or all funny. Music is life, and life will never be something with only one mood. So, we decided to mix all these feelings and to write songs with them."
Although neither Mark nor Morgane have yet been to the US (a trip which Mark admits is a bit of a French fantasy), the tracks from
My Friends
... owe a lot to current indie-Americana music. Several of the tracks recall the uplifting jangly melodies of Sufjan Stevens (particularly on the gentle folksy duet of "Hummingbird") and the folk/rock sensibility of Elvis Perkins -- both of whom the group has cited as influences along with stalwarts Pentangle and Fairport Convention. Not only are all of the songs sung in English, but there is a distinctively strong affection for Anglo-Saxon influences and culture which runs throughout the album. Theirs is a romanticized view of Americana, of vast and wild landscapes - a nostalgia for an invented bygone era.
It seems more than ever that a growing number of French artists are releasing albums entirely in English, despite various obstacles to doing so in France (for example, French law requires that radio playlists contain a certain proportion of French language music / programming). Mark has said that, personally, this has not really been an obstacle. For Mark, it was natural to sing and write in English given that "all of our musical and artistic culture comes from the US and the UK. We've always preferred to read English authors, to watch American movies…." Its a decision which has worked for the band, garnering them recognition as one of the leaders in the English-language radio movement in France.
Having only been playing together for a few years, Cocoon have continued to tour and play increasingly large venues (the 3 recent dates in Paris sold out) and festivals, and the latest album continues to be released to a broader audience to critical raves. "We are so grateful for everyone coming to our shows. We know it is kind of hard now to find tickets, but we think we have to keep on playing in 2000-people-sized venues, to respect the audience and the music." Keep an eye out for the duo's first visit Stateside this September for what Mark has dubbed the "Great US Panda Force Tour 2009".
On tour, Mark and Morgane like to throw the odd cover into the mix, like the beautiful "The Lakes of Canada" from The Innocence Mission. Other covers make less sense at first, but somehow the duo pull them off, like "Rehab" and "Kung Fu Fighting". We have it on good authority to expect, in the very near future, a cover of Motorhead's "Ace of Spades"!
A lot of the charm of Cocoon has to with the fact that these two are visibly in love with what they do and, simply put, are just having a great time making music.
What's on Mark's hi-fi at the moment? "The last albums of Elvis Perkins, Grizzly Bear, Great Lake Swimmers, Horse Feathers and The Tallest Man On Earth. I love them all."
MySpace
Listen to "Chupee" MP3


Listen to "On My Way" MP3