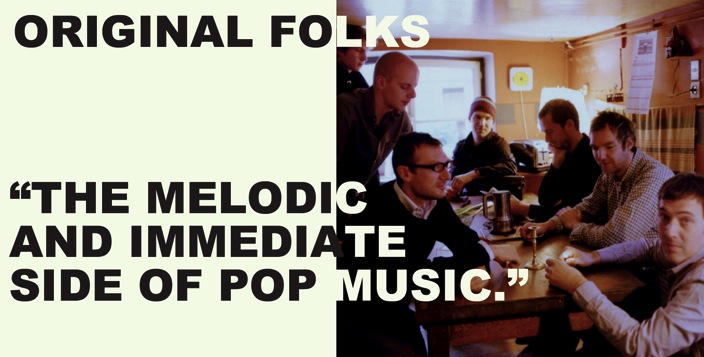 Original Folks is the French indie folk / pop project headed by vocalist and guitarist Jacques Speyser who has been performing under more or less personal aliases like Grand Hotel for the past 15 years. The sextet's well-received debut release
Common Use
has had a long gestation period -- 12 fleeting tracks which have been recorded piecemeal since 2006, mixed this past winter, and released this May on the French indie label Herzfeld. Nevertheless,
Common Use
has a marked coalescence, while allowing the songs to reflect an independent evolution.
While
Common Use
is the result of a collaborative effort, Speyser brought most of the album's tracks (whether as finished demos or broad outlines) to the group when it formed. Nonetheless, the release shows Speyser exploring the opportunities presented by working with a group. Speyser explains that "[m]y first musical projects took place without a fixed group, each time on specific and limited occasions On the other hand, Original Folks is a real group, which has taken a bit of time to stabilize. The first album,
Common Use,
reflects the evolution of the group until 2008, with many of my own musical fantasies. Since then, with a set and active line-up, the work of the group overrides my own wants. Each one of us is an influence and a driving force. I had always wanted that with Original Folks."
Original Folks pairs indie folk inflections with, at times, a decidedly French pop sensibility. Speyser is a self-taught musician, and the album reflects his attraction to simple musical structures and unpolished vocal harmonies. The lyrics are in English, a choice made by Speyser based, in part, on the musicality of the English language as well as considering the important influence that US / UK artists continue to play for Speyser and the group. The lyrics and welcoming melodies of
Common Use
evoke abstractions of travel and wanderlust, of simply changing where you are -- a sense of being less confined.
The album opener "Daze" sets the tone for the album, a delicate, shimmering track for the blissfully happy (featuring Speyer's long-time collaborator Franck Marxer on guitar). This effect is reflected on the down tempo "Holy Ghost" as well as on "Six-Wired Bird of Paradise" (Part II), a beautiful unfurling instrumental, reminiscent of Matt Pond PA. "Modern Drive", as featured by the French daily Libération on its 28 May LibéLabo playlist, does not shy away from current French pop. And on other tracks such as "Golden Age" and "Well", the group explores an ambling, poppy, indie-Americana sound. However, the group comes into its own on "Gone With The Weather", the album's strongest track, which is an upbeat, jangley guitar, sing-a-long affair.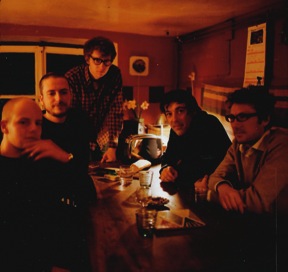 Speyser has said that the group's next album will be increasingly reflective of the group as a whole. "A second album is now being recorded. Most of the songs have already been prepared and completed during rehearsals, and others will be in the works from September 2009. Certain rhythmic parts were already recorded last year. We are anxious to pick up recording and to release the album towards the end of 2010, once again with the label Herzfeld…. The tracks will reflect a style similar to
Common Use
...[b]ut, I can't yet describe what it will be at the moment. On the other hand, I continue to be attached to the melodic and immediate side of pop music."
In any case, Original Folks' is keen for the music from
Common Use
to reach an international market, "if our French-pop (obviously quite influenced by US / UK artists) can reach an American audience, we would be honored!".
What's on your hi-fi?
Bill Callahan, Hall and Oates, Grizzly Bear, Sébastien Schuller, Sexton Blake, Great Lake Swimmers, Buggy, Ashes of American Flags from Wilco, Beach Boys and Tim Hardin.
Herzfeld (Label)
|
MySpace
Listen to "Gone With The Weather" MP3


Listen to "Holy Ghost" MP3