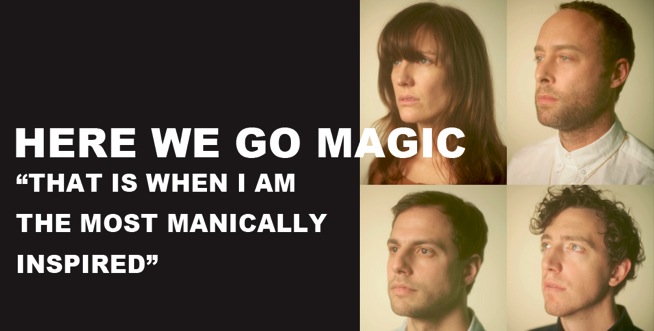 We recently sat down with Here We Go Magic's passionate front man Luke Temple on his trip through Paris to talk about the formation of the Here We Go Magic project, the majestic new release A DIFFERENT SHIP, and working with Radiohead producer / "sixth member" Nigel Godrich.
Having studied visual arts in Boston, Luke moved to New York City to pursue painting. However, becoming disenchanted by the painting culture and its financial realities, he began to explore music. Luke began performing at open mike nights on Mondays at the East Village's Sidewalk Café, alongside the likes of Kimya Dawson, Jeffrey Lewis and The Moldly Peaches. As to switching his focus to music, Luke explains that "[y]our brain doesn't notice the difference between any creative pursuit. It thinks that it's doing the same thing. [It's] the same process in a way. Writing a song, writing a record – it's painting. It just kind of took over."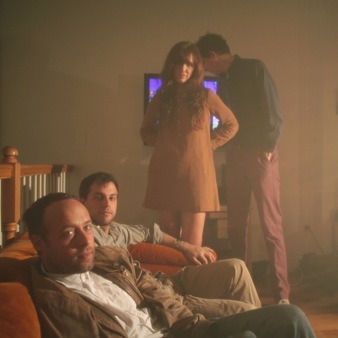 Having released two solo records, including the beautiful debut HOLD A MATCH FOR A GASOLINE WORLD (2005), Luke was facing the complications of a rotating band line-up and doubts about continuing with music all together. He needed things to change, so he decided to shift gears. He let go of the pressure that he was putting on himself and followed his instincts. Recording became more carefree and spontaneous. And the project Here We Go Magic was born. Without the support of a band, Luke wrote, performed and recorded the project's first album HERE WE GO MAGIC. The album was released through the Austin, Texas label Western Vinyl in 2008, and Luke was offered shows on the Grizzly Bear tour. "I had to put a band together just to facilitate playing music live, because it wasn't solo music. That is where the band started. And then we just kept touring. We got signed to Secretly [Canadian in 2009], and we just kept going."
"We [the band] have developed such an idiosyncratic language with each other from just playing so much live. The way they interpret the songs that I write is in a way that I would do it myself. So, it has become a band in that way. I think in most bands you have a principal songwriter, and then everybody interprets that music in a way that they do, and that creates the singular voice of that group. It wouldn't be Here We Go Magic without these specific people."
"After we finished PIGEONS [in 2010], our second record we recorded ourselves, I was listening to it, and there is a certain naiveté to the way that it was done." While Luke loves this album, he felt that it didn't have the special relationship between the sounds that he saw in certain records that he loves that are produced. "It was the first time that I thought maybe it would be interesting to work with a producer. The only two that I could think of that I would want to work with are Brian Eno and Nigel Godrich."
As chance would have it, Luke and his band met Nigel and Thom Yorke while playing at Glastonbury in 2010. Nigel then came to Here We Go Magic shows in London and Paris. And after the Paris show, Nigel approached Luke about working together. "He knew that we were a DYI band… so, he was really kind of shy about it. He came to up to us and was like, 'I am not sure if you would be interested…' and I was like, is this a joke? Because its not funny."
The conversation took off from there and a date was set to start recording. "I was just shi**ing my pants. I didn't have any songs written. So, I wrote like twenty songs, just really mediocre songs. But, I wasn't editing myself -- just writing and writing, and the band was trying to catch up. So, we went into the studio and recorded all of those songs. At the end of that session, only about two of them were worth anything. I think he [Nigel] knew that we were nervous working with him. Because for us, working with someone like him was a coup. It wasn't supposed to be. So, he said that I think we need to work more with each other to relax, so he offered us another two months in his studio in London, and that's where it really started to happen".
"The best was the stuff that I wrote while we were in the studio. I'll wake up early, and I usually get really inspired in the morning after I have had coffee – that is when I am the most manically inspired – and I'll write a song, and then we will go into the studio. I'll show it to everybody, they will learn it, and then this time, we had Nigel who is just such a master."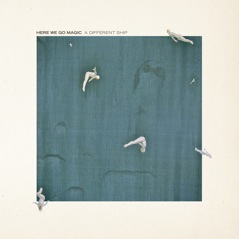 Working with Nigel allowed Luke and the band to explore a more dynamic and encompassing sound, fostering experimentation, as well as a different approach to recording. "We had this hodgepodge of songs and sounds, and we would just sit there – we would mix songs, and have all of this ambient stuff, and give him ideas. He would run with it. He is like an old school masterful engineer and producer. But, his engineering is like form. He learned from guys at Abbey Road -- like old school white lab coat, science of sound. They understand the mathematics of sound and how it works, and that is why all of the records that he makes have that real spatial, geometric form to them. He understands where the frequency of bass should sit in relation to the frequency of guitar, where the vocals should sit, all of those things to make it sculptural. There is so much space [on A DIFFERENT SHIP] that it's three-dimensional. It's like revolving around you. It's more sculptural."
A DIFFERENT SHIP also marks an evolution lyrically for Here We Go Magic. "I was trying to be less obtuse lyrically. I was trying to sing about simple things that I understood -- kind of human, universal themes. I wasn't sort of psychedelic with the words. I wanted it to be simple. The Luke Temple stuff historically has always been sort of formal songwriting, more narrative, more literal. And the Here We Go Magic stuff has been sort of like linear musically, going in a straight line, and more abstract imagery. I wanted to bring them together."
A DIFFERENT SHIP is out 8 May 2012 on Secretly Canadian. Here We Go Magic will be hitting the road in support of the new release, and updated concert dates are available on the Secretly Canadian website.
A DIFFERENT SHIP – TRACKLISTING
1. INTRO
2. HARD TO BE CLOSE
3. MAKE UP YOUR MIND
4. ALONE BUT MOVING
5. I BELIVE IN ACTION
6. OVER THE OCEAN
7. MADE TO BE OLD
8. HOW DO I KNOW
9. MIRACLE OF MARY
10. A DIFFERENT SHIP
Facebook - Here We Go Magic
-
MySpace - Here We Go Magic
-
Tumblr - Here We Go Magic