What's On The Hi-Fi Talks To...Stuck In The Sound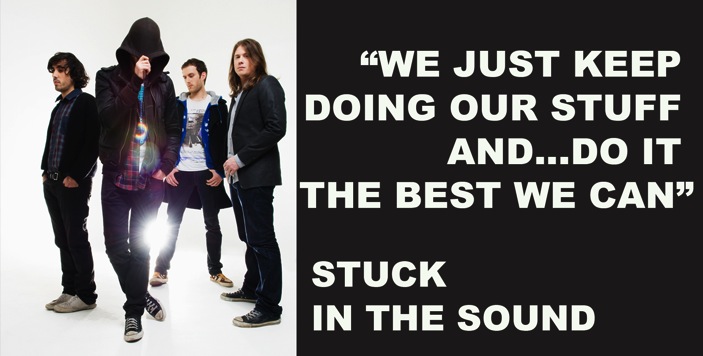 Since forming in 2002, Stuck in the Sound have succeeded in forging an indie-rock sound which is a rarity in French music. With their sophomore release,
Shoegazing Kids
, the group have solidified their critical and popular following with their energetic brand of hook-laden tracks and coaxing riffs. There is no mistaking Stuck in the Sound's strong 90's anglo indie influences, however, the group is careful to distil these references and explore their own sound.
Shoegazing Kids
takes its cue from the universal adolescent experience and shows the group broadening and polishing their sound from their debut release Nevermind the Living Dead (the single "Toy Boy" appears on the tracklist of Guitar Hero World Tour). The band's understated technical deftness and developing style is particularly evident on the driving melodic tracks "Utah" and "Dirty Waterfalls", "Ouais" with its mid-tempo change-ups, and the album's unfolding melancholic bookends "Zapruder" and "I Love You Dark".
With the release of Shoegazing Kids, there has been quite of bit of buzz that Stuck in the Sound is the "one" to watch on the French indie rock scene. What is the band making of all this attention and has this put any extra pressure on the band?
We're very honored if people are interested in our band. We don't really feel any pressure about it -- we just keep on doing our stuff and trying to do it the best we can!
The indie rock sound of Shoegazing Kids is frankly pretty rare in French music and more akin to the sound of American and British indie bands (past and present). How did the group's sound come together? Why the decision to sing in English and what has the reaction been?
When we formed the band, the four of us had quite different tastes and influences, although we were all essentially "rock" fans. We didn't have one single common idol or band we all wanted to sound like. We never played any covers until very recently.
We only tried to create and play music that would please the four of us. It's something we have in common to think that rock music sounds better in English. There's never been an actual "decision" to sing in English -- it came very naturally, we never really considered the other option (French). This "non-decision" didn't make things easy for us in France in the first place -- to make a long story short, singing in English for a French band means seriously lowering your chances of getting played on the radio, but thanks to the internet and lots of gigs, we managed to have some success here anyway.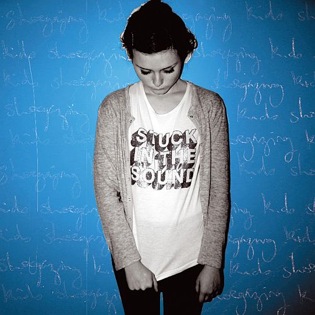 The album was mixed in New York by Nick Sansano who co-produced and recorded Sonic Youth's iconic album Daydream Nation. How did working with Nick in New York influence the album?
When we started working with Nick, the album was completely recorded, and we had a quite precise idea of the way we wanted it to sound, a direction that had influenced the way we recorded the album. So we tried to explain it to Nick the best we could, and we seemed to understand each other very well! His approach to mixing is a very musical one. We're so happy with the way he mixed the record. It was a great experience for us, coming to Brooklyn and following Nick's work step by step. He gave the power and unity we wanted for the record -- the way he handled the guitars is beyond our expectations, and on top of that, we had a great, great time!
What do you think of the French indie music scene? Is it still fairly Paris-centric?
There are great artists all across the country. Still, since most major media and record companies are in Paris, a Paris-based band or underground scene has a better chance of getting noticed and released at a national level, and this convinces a lot of provincial artists to move to Paris to look for their break. That's the case of Bordeaux's indie rock band Adam Kesher for example. Reims' (the city of Champagne) electro scene is very hot these days too, with artists like Yuksek or the Shoes, and the most exciting young rock band in France, the Dodoz, comes from Toulouse. Of course, Paris has great bands too, Hey Hey My My, Nelson, Syd Matters, or the young and crazy I am un chien!, to name a few . . . .
Stuck in the Sound has an incredibly devoted fan base. What is the secret to the band's following?
It's true that we feel very close to our fans and they to us! It's probably due partly to the influence that MySpace has had on the development of our band -- we communicate a lot through that medium, chatting directly with the fans. A big part of that special bond we have is also due to endless touring, sincere "play it's like it's the last one ever" shows, and meeting the audience in person after the gigs. And of course, we also hope it's due a little bit to the fact that people relate to our music -- get moved by it.
The band will be playing several dates throughout France (including the Bataclan on 6 May) and Germany in the coming months. What is it like now for the band to play in Paris where it all started to happen for the band? Any plans yet to promote Shoegazing Kids in Britain and the US?
It's very strange because, before the band got signed, we played in Paris like, every two weeks. And since we have records out and started touring seriously, we play in Paris only once or twice a year, in bigger places, and only during tour periods. It was very frustrating at first. I guess we got used to it, and it sure makes our Paris gigs particularly exciting. Still we miss that "club action" of the early days, and we intend to rock every club in New York, London, or anywhere, the way we did in Paris!
What is the biggest challenge now for Stuck in the Sound?
We have a lot of cool gigs and festivals ahead of us, and we want this tour to continue as awesomely as it started, and we hope it's going to expand to many places we've never been before. On top of that, our biggest challenge is to stay inspired in spite of an endless tour, and write, record and release new exciting stuff in the months to come!
What's on your hi-fi?
Metronomy, Pantera, French hip hop artist Sefyu, Michael Jackson and John Coltrane.
Stuck In The Sound (Official)
|
MySpace
Listen to "Ouais" MP3


Listen to "Shoot Shoot" MP3