What's On The Hi-Fi Interview with The Ruby Suns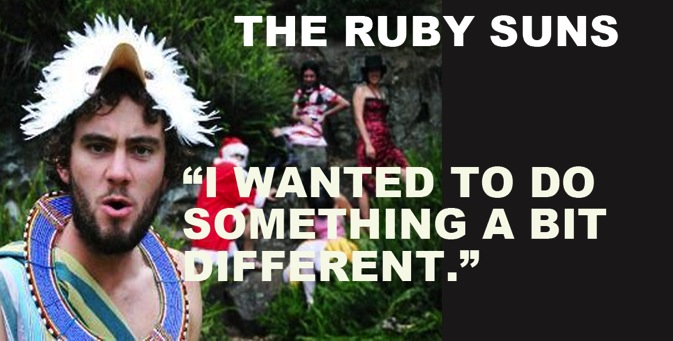 Maybe it's the album's infectious and hyper blend of tropicalia and modern pop, or the synth riffs and warped beats, or the exciting change-up unpredictability. Whatever the reason, we find ourselves coming back to bask in the melodic sunshine of the new release
Fight Softly
from New Zealand's adventurers The Ruby Suns.
Fight Softly
is out now on Lil' Chief Records,Sub Pop, and Memphis Industries.
Listen to "Cranberry" MP3
We caught up with the band's frontman, songwriter and producer, Ryan McPhun, who shares with What's On The Hi-Fi what got him excited about making music, how the new release took shape and a few of the tracks which are now making the rounds on Ryan's hi-fi.
Is there any particular album that you heard growing up that made you excited about making music?
I loved Michael Jackson when I was a kid. My sister and I used to dance on top of our upside down laundry baskets. I also loved Phil Collins and Hall and Oates. When I was about 9 in the early 90's I started getting into gangster rap, funnily enough. I think the funky drum beats attracted me to them. I started playing drums a couple years later.
We understand that you are originally from California and moved to Auckland a few years back. What brought you to New Zealand?
I'm an New Zealand citizen, so it has always been an easy option for me. I had been going to university in Los Angeles, and I'd had enough of it and wanted something new so I headed to New Zealand. I also had started seeing someone from New Zealand who I'd met on a prior trip there so I wanted to hang out with her some more.
Could you tell us a bit about how the band's third album Fight Softly took shape? Were there any particular influences or motivations?
It was a pretty long process. I started a few songs in '08 that were sort of a continuation of what I was trying to do on
Sea Lion
[2007]. The ones with a little tropical flavour. But when I went to write the bulk of the songs, I wanted to do something a bit different to that. I wanted the songs to be a bit more pop, while still being challenging in some way. There are definitely touchstones throughout the album. I was listening to
Tango
In the Night
(Fleetwood Mac) a bunch and was getting really inspired (again) by
Bad
by Michael Jackson. I was also getting more and more into heaps of different dance music.
How did you approach the engineering / production of Fight Softly?
I used a lot more samples this time around. Whether it is drums from sample sets or little snippets of songs. So a lot of the tracks have a more electronic base to them. I mostly would plug synthesizers and keyboards and even guitars straight into my sound card, and I would effect them in my recording program. My friend Bevan Smith (signer, ex-Ruby Suns) also helped a bit with production and sound ideas. I would send him demos, and he would tell me what he thought. In some songs he added some sounds or instruments, and for 'two humas' he even wrote the outro vocal melody and lyrics. He's been writing, producing music with Signer, Aspen, and Skallander for years, and he's one of my favourite producers around.
You are out now on a busy tour schedule (including 15 May at Point Ephémère (Paris)). Any stops that you are particularly looking forward to playing?
Definitely looking forward to the Paris show. I was nervous about the New York show 'cause it's a big venue, but it ended up being sold out, and we went bowling at the venue (also a bowling alley) 'til they closed at 4am. Amazing. I'm really looking forward to coming back to Europe though. There's a few festivals we might be doing that look amazing.
We read that you enjoyed spending some time off in Paris last year. What is it about Paris that appeals to you?
I actually haven't spent too much time in Paris. But the time I've spent there has been great. The coffee and food and wine blow me away every time. Our last show there was with some friends of ours from the States, and we had the best time.
What is the most ridiculous question you get asked about New Zealand?
I think a recent question was: So, where is Hobbiton?
What is on your hi-fi at the moment?
Alicia Keys, "Try Sleeping With a Broken Heart": Such an amazing song. I love her voice in this track and I love the melodies and the ascending synth chords.
Oh No Ono, "Eleanor Speaks" (Caribou Remix): I like the
Oh No Ono
album, but this remix by Dan Snaith (Caribou) blows me away. Its got such an amazing techno swing to it. The sounds are incredible. I wish I could produce like that guy!
Smith and Thomas, "Even If You Try": One of my bud Bevan Smith's projects. This track has a nice housey feel to it and beautiful melodies.
Arthur Russell, "Springfield": I've listened to this track so many times, but i'm still not sick of it. He's one of my very favourite vocalists and a big influence on my singing, especially for
Fight Softly
. It's a long jammy track but has the most amazing keyboard riffs ever, with perhaps Russell's best vocal melodies.
Michael Jackson, "Another Part of Me": listened to this track pretty much on repeat while making
Fight Softly
.
Dizzee Rascal, "Tongue n'Cheek": Don't know why I haven't listened to this album until fairly recently, but I really love it. The production is really great, and the songs are great. The track where he talks about getting blowjobs from complete strangers is particularly, uh, interesting.
MySpace
|
Lil' Chief Records
|
Sub Pop
|
Memphis Industries