Track of the Day ..."Lungs Quicken" from Lanterns on the Lake
Lanterns on the Lake
"Lungs Quicken"
from
Gracious Tide Take Me Home
Bella Union (2011)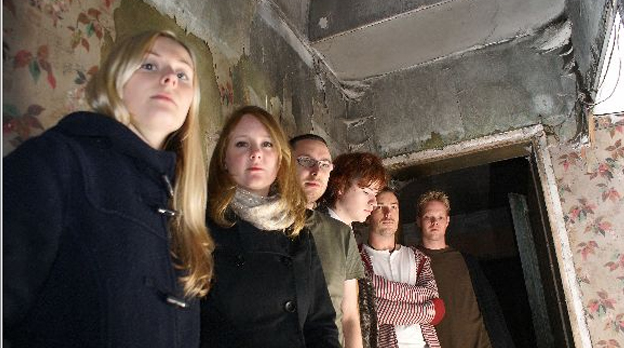 Listen to "Lungs Quicken" MP3
Recorded on a borrowed 8-track in an isolated house in Northumberland,
Gracious Tide Take Me Home
is the beautiful full-length debut from England's Lanterns on the Lake.
The sextet, which formed in 2008 as Greenpeace, is made up of Hazel Wilde (vocals / guitar), brothers Adam (vocals / guitar) and Brendan Sykes (bass), Sarah Kemp (violin), Ol Ketteringham (drums / piano) and Paul Gregory (guitar / electronics). Inspired by bands such as Low and Sigur Rós, Lanterns on the Lake's sound is a difficult to categorize mix of folk and electronics, featuring some rather incredible guitar effects from Paul. Forgoing the studio, this debut remains personal and intimate. The songs reflect a sense of traveling and time, often drawing inspiration from darker moments -- "Ships In the Rain" is inspired by a the story of a local fisherman who disappeared at sea, and "A Kingdom" draws upon a book of letters sent back home from WWII soldiers.
Have a listen to the quietly hopeful track "Lungs Quicken", a song which hesitantly leaves the ground, the melody circling high above.
Also, check out the seaside
video
for "Keep on Trying", directed by Alex Southam.
Lanterns on the Lake will be playing dates throughout Europe this October and November:
Oct 20 @ The Roundhouse, LONDON (Supporting Yann Tiersen)
Oct 21 @ Concord, BRIGHTON (Supporting Yann Tiersen)
Oct 22 @ Brudenell Social Club, LEEDS (Supporting Yann Tiersen)
Oct 23 @ ABC1, GLASGOW (Supporting Yann Tiersen)
Oct 24 @ Academy 2, MANCHESTER (Supporting Yann Tiersen)
Oct 25 @ Academy 2, BIRMINGHAM (Supporting Yann Tiersen)
Nov 1 @ The Sage, GATESHEAD
Nov 2 @ Leaf, LIVERPOOL
Nov 3 @ The Harley, SHEFFIELD
Nov 5 @ Festival Les Inrocks, PARIS
Nov 6 @ Kavka, ANTWERP
Nov 8 @ Botanique - Witloof, BRUSSELS
Nov 9 @ Studio 672, COLOGNE
Nov 10 @ Privatclub, BERLIN
Nov 16 @ Amager Bio Beta, COPENHAGEN
Nov 18 @ Crossing Borders Festival, DEN HAAG
Nov 20 @ The Attic (In The Forum), HERTFORDSHIRE
Nov 22 @ The Lexington, LONDON
Nov 23 @ The Cooler, BRISTOL
Nov 24 @ HMV Institute, BIRMINGHAM
Nov 25 @ Bodega, NOTTINGHAM
Nov 26 @ Brudenell Social Club, LEEDS
Nov 27 @ The Deaf Institute, MANCHESTER
Nov 29 @ King Tuts Wha Wha Hut, GLASGOW
Nov 30 @ Electric Circus, EDINBURGH
Official
|
MySpace
|
Bella Union