PURE X - "PLEASURE"

Texas band Pure X (formerly Pure Ecstasy) first made their mark two years ago with the release of "Easy". Their debut album Pleasure is defined by this breakout track which features Nate Grace's sun drenched, reverb filled vocals fighting through prominent effect-laden guitar eruptions and backed by a throbbing bass and pedantic drums. Although "Easy" branded the band's sound it doesn't limit them creatively.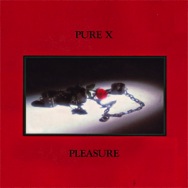 Much has been written about Pure X's similarities to The Jesus and Mary Chain (especially by the UK press). There is no denying a kindred sound. However, I am sure if we dug around NME from 1986 we would find a comparison between JMC and The Velvet Underground. It's a style that has been defined before but necessitates new chapters to grow the story.
On "Twisted Mirror" the same technique is used but in a more progressive tone. The song utilizes the sparse, roomy style of their songs to allow the life around you to merge with the track. At first it blends and binds to your surroundings then emerges, ingrained in your senses. It is very organic and rich.
The natural feel of the album is owed to the fact that the band recorded the album live as a unit. The choice to eschew bloated production techniques such as overdubbing and sampling is what illuminates this album.
TRACK LISTING:
01.
Half Here
02. Pleasure
03. Dry Ice
04. Stuck Livin
05. Surface
06. Voices
07. Easy
08. Twisted Mirror
09. Dream Over
10. Heavy Air
Official
|
Acephale Records