Futile Crimes
and
Tacking
are excellent soundtracks to which you can quite easily wile away the languid days of summer.
The Göteborg, Sweden duo shares with us a few of their top tracks for this summer.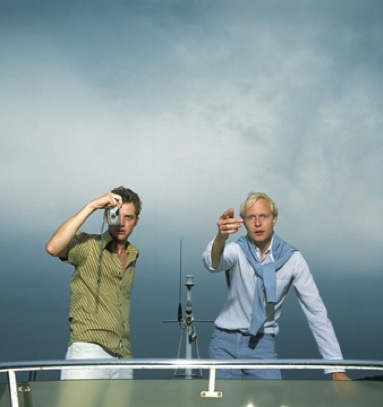 "Neighbourhood Threat" - David Bowie
Nothingness, yet still threatful.
"Satisfied" - Esser
Very typical British nonsense. Cheerful and urban.
"Acperience 1" - Hardfloor
Last night it struck me that this song has followed me almost all my life as amateur-dj -- always knocking in the right context.
"Jalsat Atabat" - Omar Souleyman
Best music for car trips up North.
"Als Wär's Das Letzte Mal" ("Like It Was The Last Time") - DAF
Laughable, provocative, gasping and hot.
Download or stream the new Service label's
Live Forever or Die Trying
compilation -- includes the releases "Some Indulgence" and "It Pays To Belong" from The Embassy
here
.
The Embassy (Official)
|
MySpace

With their catchy summer electro-pop tunes, the sound of The Embassy harks back to an era of the likes of The Beloved, Happy Mondays, Stone Roses, all with a breezy Nordic twist. Their outstanding albums