Art Brut
Art Brut vs. Satan
Downtown Records
'Download: "Slap Dash For No Cash"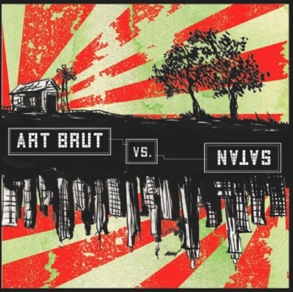 Art Brut has been that odd band during these days of albums that are too polished but trying to be real and organic. Make no bones about it; this band has no interest in being Arcade Fire or TV On The Radio. I like both bands but thank God, warts and all, they are more like the Ramones, the Damned or Black Flag. After two really cool and fun albums,
Bang Bang Rock & Roll
and
It's a Bit Complicated
, you might expect Eddy Argos and crew to flounder but there is a truth and purity in their sound that is sorely missed in the modern alternative music landscape.
On
Art Brut vs. Satan
, produced by Frank Black of the Pixies, each track storms into sing along lyrics by Eddie Argos that are unabashedly self-effacing without being humiliated. Just kick back with a beer and a trashy rock magazine and fall in love with "DC Comics and Chocolate Milkshakes." Or have a laugh at U2 and Brian Eno's overly earnest outputs on "Slap Dash For No Cash." On "The Replacements" we are reminded just how late most of us got into the Westerberg's band.
No one is going to accuse the guys from Art Brut of tuning up or practicing there scales soberly all night. What you get on
Art Brut vs. Satan
is a full throttle rock and roll album performed like it's supposed to be done. Soapbox available for any difference of opinion!
Art Brut (Official)
|
MySpace