Jónsi & Alex
Riceboy Sleeps

XL Recordings (2009)
Download: "Indian Summer"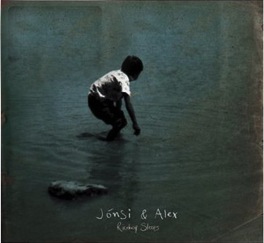 More than five years in the making, Jonsi and Alex's
Riceboy Sleeps
is a deep, contemplative and brilliant piece. At first it seems that duo of Sigur Rós' singer Jon Thor (Jónsi) Birgisson and Alex Somers created a tranquil, languorous set of lullabies but once you release yourself from the boundaries of tracks, chords and melodies you open a door to the full light of the album. It is the picture of the album cover that most defines the album's sound for me. It represents the quiet peace of childhood and the purity therein. From the opening track "Happiness" the group paint an idyllic setting that rises and expands through the excellence of "Indian Summer" and beyond. The album breathes (sometimes literally) and exists as an entity all its own.
Jonsi and Alex were making a very intense and specific concept album from the beginning. Their website states that they used only "acoustic Instruments played in Iceland" and "toyed on solar-powered laptops in a raw food commune in some far corner of Hawai". The effort has richly paid off for the two as you can hear both the comfort of home and the sounds of nature slowly resonating, undulating and speaking to the listener.
As a reviewer you find yourself musically hair-splitting every album you come across. This band sounds like this band. It is a way to derive some safety and comfort from a particular sound. I went back through everything from Eno to the
Last Temptaion of Christ Soundtrack
to
Lohengrin
to Andres Vollenweider's
Down To The Moon
looking for some comparison.
Riceboy Sleeps
is unique, incomparable and stirring.
Jonsi and Alex (Official)
|
MySpace