The Arch Cupcake
Box of Bees
Patriarch Recordings
Download: "Wasabi"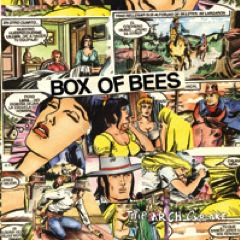 Over the past decade we have seen the rise of popularity of the crate-digger sect in alternative electronic music. Turntable helmers and knob twisters like DJ Meiso, Blockhead, DJ Shadow, R2DJ and Z-Trip have changed the way we think of sampling and have created a modern music style of their own. One that invades the borders of any musical genre that has a sound worth sampling. One newcomer has been making waves in this new musical pursuit. The Arch Cupcake is NYC native Frederick Sargolini, formerly of Ming+FS. He first hit the scene as a solo with his acclaimed
Wash Out
EP and has shown himself to be a talent to watch with his debut full-length.
On TAC's
Box Of Bees
, Sargolini mines beats, echoes and scratches like he invented them. They swerve and swirl around each other in an effortless blend of rhythm and time. Just take a listen to "No Dice" if you scoff. He also is a skilled beat boxer but doesn't limit himself to the cliched Doug E. Fresh model and adds a sexy seventies jazz vibe and some wickedly tight scratches to his version of the "The Human Beat Box." The standout track on the album is "Wasabi" a Mocean Worker like sixties go-go grind that oozes cool from its opening beat and continues with its utra-sleek Hammond riffs.
Listen for
Box of Bees
to be on the hi-fi
at the next Brooklyn BBQ your at or load it up and bring it yourself. It's guaranteed!
MySpace