The Acorn
No Ghost

Paper Bag Records (Canada) / Bella Union Records (US / Europe)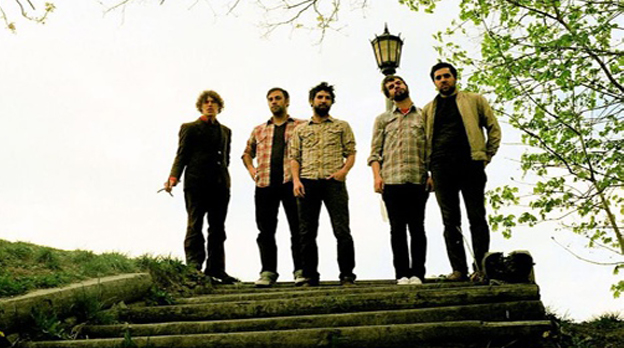 Listen to "No Ghost" MP3
The Acorn initially began back in the summer of 2002 as the solo project of Ottowa's Rolf Klausener. The coming years saw the band's membership grow to become a collective, releasing the 2008 Polaris Award nominated
Glory Hope Mountain
. The band is no stranger to touring, having hit the road to play with the likes of Calexico, Bon Iver, Fleet Foxes and Elbow.
Work on The Acorn's third full-length album
No Ghost
(to be released in June) began in the summer of 2009 when the band retreated to a secluded cabin in Northern Quebec. Tracks came together out of improvisation and an assured experimentation with both acoustic and electronic sounds. The Acorn then headed to Montreal to complete work on the album, leaving the cool wooded comfort to record in the midst of an urban heat wave – the result being a truly adventurous and rewarding release with staying power.
No Ghost
deftly conveys a vivid folk / rock landscape, guided by the subtlest and most effective use of multi-instrumentation and modern / traditional contrasts, both sonically and lyrically. The album opens with the guitar feedback driven "Cobbled From Dust" and moves into indie folk / rock territory with "Restoration", a beautiful track with struts along at an excited clip (listen to the Four Tet dreamy take on this track on the Bella Union website). "Misplaced" is tenderly exposed, along with the intimate "On The Line" and "Almanac". "I Made The Law" jolts along on a blend of folk / country / rock guitars while "Bobcat Goldwraith" is an excellent track buoyed by eclectic instrumentation. The title track revs on frantic guitars and building rhythms and backward guitars and strings. The album closer "Kindling To Cremation" is one of our favorite tracks from
No
Ghost
, a track that encapsulates The Acorn's sound – the use of subtle effects and instrumentation and visual lyrics including the wonderfully curious line "I can hear the wrinkles whisper in your dress."
The album will be available in the US and Canada digitally on 6/1.
Be sure to catch The Acorn in London on 3 June and the following day in Paris at La Flèche d'Or. Check the band's website for complete tour details.
Official
|
MySpace
|
Paper Bag Records
|
Bella Union