St. Vincent
Actor
4AD (2009)
Download: "The Strangers"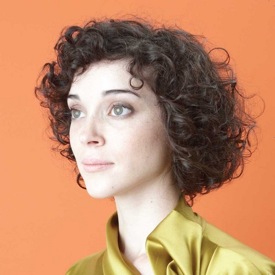 Born in Tulsa, but currently residing in Brooklyn. St. Vincent (aka Annie Clark) attended the Berklee College of Music. She has played guitar for both Sufjan Stevens and the Polyphonic Spree. Clark released her debut album,
Marry Me
, in 2007 for which she was nominated for three 2008 PLUG Independent Music Awards eventually taking home the prize for Female Artist of the Year.
With
Actor
, she has created a diverse, engaging album that initially seems sanguine but harbors some dark and foreboding elements in the music and lyrics. The opening track "The Strangers" perfectly illustrates her shadowy penchant. Beginning with the slow 1940's MGM-styled orchestral arrangement, the song picks up a thumping beat and soon Clark's fresh sounding voice floats into the mix. Finding yourself singing along to chorus of "paint the black hole blacker" is an odd feeling. It's because her music sounds so mysterious and upbeat that it doesn't devolve into the doldrums.
The album presents new gems throughout the life of its 11 songs. From "Save Me From What I Want" and its ubiquitous "watch yourself" in the background to the Cocteau Twins' sound of "Laughing With A Mouth Full of Blood" to the slow, easy sounds of longing on "The Party", St. Vincent's song crafting and style makes you listen over and over and find beautiful corners to hide in and eavesdrop through the walls of this fine effort.
St. Vincent (Official)
|
MySpace