Emanuel & The Fear
Emanuel & The Fear (EP)

Ishlab Music (2009)
Download "Jimme's Song"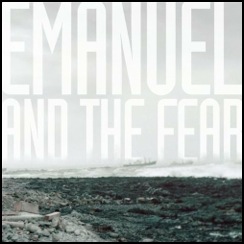 Brooklyn based Emanuel & the Fear is an 11-piece rock band led by singer/songwriter/multi-instrumentalist Emanuel Ayvas. Their sound concentrates its heart on weaving intelligent, ornately arranged and conceived songs, which linger and grow with each play.
The hook filled songs on their self-titled EP are dreamy and melodious exhibiting skilled musicianship, song crafting and in-depth lyrics reminiscent of Arcade Fire and Sufjan Stevens. "Rain Becomes The Clouds" develops from a simple hand-clap synth beat then weaves in a pretty orchestral strings which rise up to meet a horns and piano. All the while the Emanuel sings arms open embracing all the sounds as they squeeze between his capable grasp. It's a competition of sounds that bear a lovely tune.
The standout track on the set is "Jimme's Song" a cool, shuffling corner blues track that builds and conquers in a Dylanesque foot-stomp call, "I don't wanna do nothing but be in a rock. Don't wanna get a job. Don't wanna a be a man". Its in this song we see the truest nature of Emanuel and the Fear. Smart, poetic, and lovely.
We look forward to hearing more tracks on their debut LP that they are currently recording.
Emanuel & The Fear (Official)
|
MySpace