Thao & Mirah
Thao & Mirah
Kill Rock Stars 2011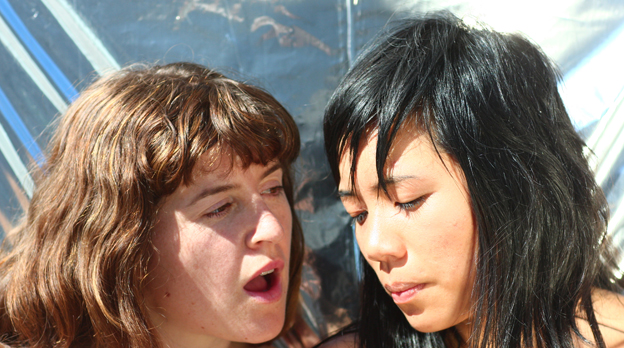 Listen to "
Eleven
" MP3
Thao & Mirah is the welcome collaboration of two very different and accomplished singer songwriters, each bringing a unique and yet complimentary voice and approach to this project. Each alternate roles and songwriting throughout the album. Mirah's voice tends toward the breathy and ranging with starry-eyed lyrics ("Spaced Out Orbit", "Little Cup"), while Thao's voice reaches low with more direct and rollicking tales ("Squareneck", "Teeth", "Folks"). The overall sound shifts from folk, to pop to blues, all held together with a carefully liberated energy. Tracks remain immediate and somewhat raw, coming together in their variety to create an impressive and cohesive album.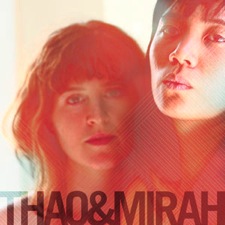 Have a listen to "
Eleven
", the celebratory album opener and our favorite track, with sparking rhythms and Thao & Mirah's lyrical volley and chorus of "when love is love, don't let it go away". There is no missing the experimental imprint of the track's co-writer and album co-producer Merrill Garbus of tUne-yArDs, whose new album
W H O K I L L
should definitely be on your shortlist for album's to check out.
Thao & Mirah are on tour throughout the US starting this month, with a stop in Brooklyn at the Music Hall of Williamsburg on 8 June. Hopefully we will see some European dates later in the year.
Thao & Mirah each work with
Air Traffic Control
(ATC), an organization dedicated to helping musicians promote social causes. Part of the ticket price to each of their shows will be donated to local community organizations working for positive social change, particularly in the area of raising awareness and offering resources in response to physical, emotional and sexual abuse in the home.
TRACK LISTING:
01.
Eleven
02. Folks
03. Little Cup
04. Rubies and Rocks
05. Teeth
06. Spaced Out Orbit
07. How Dare You
08. Sugar and Plastic
09. Likable Man
10. Hallelujah
11. Squareneck
Official
|
Kill Rock Stars