Major Lazer
Guns Don't Kill People Lazers Do!
Downtown (2009)
Download: "Hold The Line"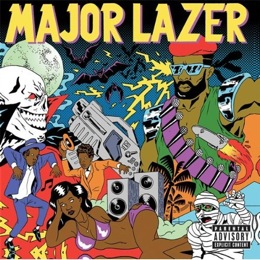 It's bad enough that Major Lazer, Jamaican commando lost his arm to zombies but he is constantly besieged by monsters and vampires. Of course during his downtime the Major is chief hedonist in the land. Not only does he get the bikini, booty babes and party like Led Zeppelin in 1976 but he throws down some mean dancehall tunes to boot. Who lives like that?
Well, no one really does. Major Lazer is the mad cap creation of producer/DJ's Diplo and Switch. Their previous collaborations include work with Santogold (featured on the album) and the Grammy winning "Paper Planes" for M.I.A. Now its important to mention that both are nothing like their adventurous alias. Diplo is a slight, creamy guy from Philly and Switch is equally milky and hails from the anti-dancehall hotbed of Birmingham in the UK. They do share one thing with the Major, they make a mean dancehall album.
Guns Don't Kill People Lazers Do!
was recorded in the hallowed rooms of Tuff Gong Studios in Jamaica, the duo enlisted the help of some of dancehall's heaviest hitters including Gyptian and T.O.K and a few modern alternative voices like Santogold to broaden their albums reach. Although the it lyrically might not be the most appropriate material for everyone, the beats, rhythms and melodies are spot on and had us rocking around at 10am on a Tuesday. Get out the Appleton's and ginger beer and crank this album at your next summer party.
Major Lazer(Official)
|
MySpace