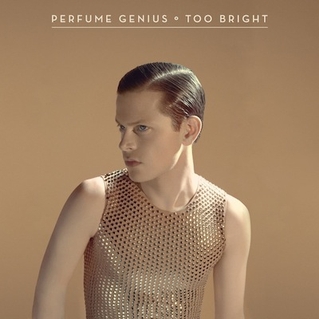 Perfume Genius
Too Bright
Matador Records (2014)



Perfume Genius' third album,

Too Bright

, see's Seattle songwriter Mike Hadreas develop a much more substantial and sonically ambitious sound. The album, Co-produced by Portishead's Adrian Utley and Ali Chant, provides the perfect balance between loud, bellowing agony and sweet silence alternating between the sounds of Antony and the Johnsons and PJ Harvey. With that comparison being said, Perfume Genius is a unique artist and

Too Bright

is a stunningly beautiful and sometimes unsettling album.





The lead single "Queen" is a fuzz fed, choir filled, T-Rex slow burner that features an asian inspired melody met by powerful work song "Oomphs". The song churns and burns like a heroic march towards sexual freedom.





The heart of

Too Bright

are the subtle and quieter tones of "Fool" with it's spare finger snaps, bass and piano and the romantic, pastoral hymn "Good".





"Grid" is a fiery, cauldron of a song that percolates from a 1960's pompadoured rocker delivery that explodes into unbridled howls that would make Robert Plant proud.



Too Bright is filled with deep psychological and emotional abstractions and shouldn't be considered a pop album but what makes it so wonderful is that is exactly that. Hadreas manages to create an album that feeds both the esoteric and desired, the kiss and the punch, with equal parts of wonder.