The Mummers
Tale To
Tell

Big Bass Drum (2009)
Download: "Wonderland"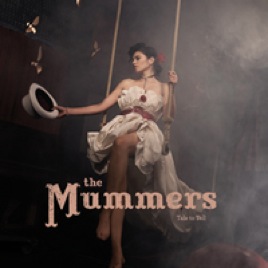 Much has been said already by some American reviewers about the Mummers and their significance to the Philadelphia New Year's Day parade, all much ballyhooed and taken on as a cause by such luminaries as Kevin Bacon of
Friday The 13th
and
Footloose
fame. Also, yes the lead singer's vocals bare a striking resemblance to Bjork. Okay, now that is said, let's review the album.
Tale To Tell
is an exotic, electronic piece of showmanship that centers itself around the beauty and voice of singer-songwriter Raissa Khan-Panni. Like the Icelandic sugar hiccup and Alison Goldfrapp before her Raissa mesmerizes with tight-wire Kurt Weillian' sweet yowls. The album is her showcase and she is spellbinding in her task.
The music does not wander too much farther than big top hijinks, mixed with Cafe Del Mar Otto or Cinco. I forget because of the champagne. There is a bit of a wander after the middle that becomes a grander march out of the circus tent. Cattiness aside, It takes skill to produce this sound and some level of credence should be afforded to the music makers.
It's a brilliant piece of treacle overall and will be enjoyed by many. And for the Philly crowd, remember she is from the UK and they certainly were Mummers first. Now grab a Geno's with cheese and chill!
The Mummers (Official)
|
MySpace