Choir of Young Believers
This Is For The White In Your Eyes

Ghostly International (2009)
Download: "Wintertime Love"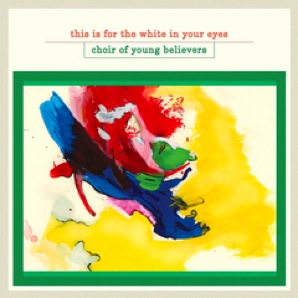 Once in a while you stumble on a debut album that just makes you cock your head, furl your brow and then just smile with surprised delight. It's been since Radiohead's
OK Computer
that I have heard such a consistently mesmerizing and fresh album as Choir of Young Believers' debut album
This Is for the White in Your Eyes
.
Written by Denmark's Jannis Noya Makrigiannis while he was developing solo work in Greece after a band breakup, the album is a brilliant blend of folk, orchestral-pop and somber yet illuminated lyrics that make for a sound that is unique.
The greatest standouts on the album are "Wintertime Love" and "Hollow Talk". Both songs rise and ebb with inspired thoughtfulness as layered sounds develop patiently in a seemingly effortless forte. It is hard to pick a few songs to highlight, as I feel attracted to the whole album and suspect to meet new favourites.
I can't wait to listen to these lush melodies, majestic builds and Jannis' heavenly vocals for the rest of the year and far into the future. It's that good.
COYB (Official)
|
MySpace