Vetiver

Tight Knit

Bella Union / Sub Pop (2009)

Download: "Everyday"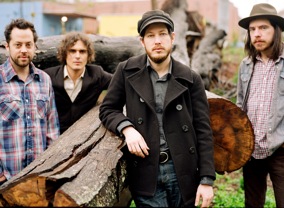 Tight Knit
, Vetiver's first release on Sub Pop / Bella Union records, is a fine collection of melodic Americana, Southern-funk and hazy California folk.
Virginia native Andy Cabic fronts this San Francisco collective, which on the group's debut release in 2004, saw Cabic collaborating alongside friends Colm O'Ciosoig (My Bloody Valentine), Hope Sandoval (Mazzy Star), Devendra Banhart, and Joanna Newsom. The line-up has evolved and with the group's fourth release, Cabis is joined by various compatriots including guitarist Kevin Barker, Sanders Trippe on guitar and vocals, drummer Otto Hauser, and bassist Brent Dunn.


Tight Knit neatly encapsulates and refines the various styles of Vetiver's earlier releases and adds a lick of polish to songs which have been honed over many days out on the road. Recorded in Sacramento and LA, Tight Knit was produced by longtime Vetiver collaborator Thom Monahan, who maintains a light touch, allowing the pared down and nuanced essence of the tracks to gently unfold. A deeply rewarding listen.