Warpaint
"Krimson"
From
Exquisite Corpse
Manimal Vinyl Records (2009)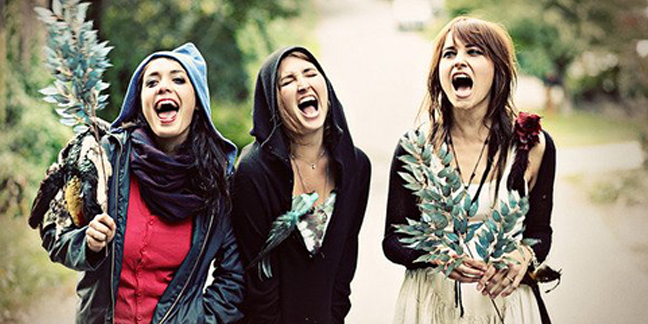 Listen to "Krimson" MP3
Warpaint is a quartet formed 5 years ago (on Valentines Day no less) by LA (Echo Park) transplants and childhood friends Emily Kokal (vocals, guitar), Theresa Wayman (vocals, guitar, keyboards) and Jenny Lee Lindberg (bass, vocals). M Quinn (from the group Corridor) was recently added as the group's latest drummer and multi-instrumentalist. Earlier this year, the group self-released their debut
Exquisite Corpse
, an EP which proudly made its way to the top of Amoeba Records' local artist's chart. Lucky for us,
Exquisite Corpse
has been re-released on Manimal Vinyl Records.
This re-release includes the excellent tracks "Billie Holiday", "Elephants" and "Stars" from the original release, as well as a new track called "Krimson". On this track, a post-punk beat emerges from a blurry guitar loop, sliced by distantly raw vocals, all building to a wonderful trailing psychedelic blur.
Catch Warpaint touring the US with Akron / Family this coming February and March. Also, look for the band's new release and appearance at SXSW, both in 2010.
MySpace
|
Manimal Vinyl