Jens Lekman
"An Argument With Myself"
from
An Argument With Myself
Secretly Canadian / Service (2011)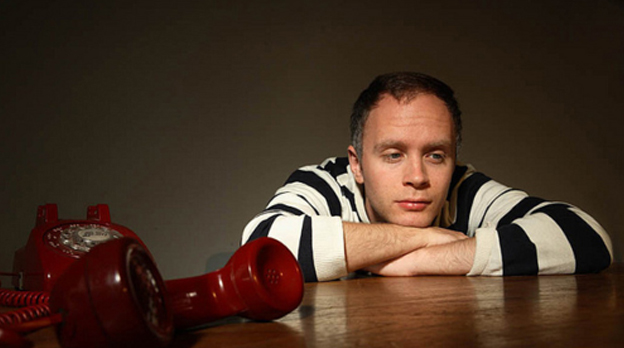 Listen to "An Argument With Myself" MP3
One of our favorite artists / storytellers Jens Lekman is back with an excellent 5-track EP
An Argument With Myself
, a smart and sharp follow-up to his 2007 release
Night Falls Over Kortedala
. On these wonderfully site-specific tracks, Jens shares the personal, all keenly observed, with a warm and laid-back sense of humor.
Jens wrote on his website about the title track, "(i)n the case 'Jens Lekman vs. Jens Lekman', we will look closer at the evidence presented - the photo I had carried in my breastpocket for a whole year, the pressed honeysuckle, the wind so rich on summer and so sweet - how are these things connected and why are they relevant?"
Have a listen to the title track, a song that bobs and weaves as Jens has a nice go at himself as he walks home through the streets of his adopted home of Melbourne, Australia.
Be sure to catch Jens on tour this October in Europe and the USA (quite a few shows have already sold out). He puts on an excellent live show that you shouldn't miss.
Also, have a
listen
to the Summer Never Ends mixtape from Jens (from 2009) which includes a wonderfully imagined conversation with Alicia Keys (about the 15:10 minute mark).
EUROPE Oct 29 - Paris, FR - Pitchfork Music Festival (SOLD OUT)
Oct 27 - Milano, IT -
Salumeria della Musica
Oct 26 - Vienna, AT -
Odeon Theater
Oct 24 - Köbenhavn, DK - Koncerthuset Studio 2
Oct 23 - Göteborg, SE -
Nefertiti
Oct 22 - Stockholm, SE -
Södra Teatern
(SOLD OUT)
Oct 19 - Manchester, UK -
Band on the Wall
Oct 18 - Bristol, UK -
Thekla
Oct 17 - London, UK - Heaven (SOLD OUT)
Oct 15 - Düsselfdorf, DE -
Schumannsaal Düsseldorf
Oct 14 - Nijmegen, NL - The Vereniging
USA Oct 9 - Brooklyn, NY -
Music Hall of Williamsburg
(SOLD OUT)
Oct 8 - Boston, MA -
Somerville Armory
(SOLD OUT)
Oct 7 - Brooklyn, NY -
Music Hall of Williamsburg
(SOLD OUT)
Oct 6 - Philadelphia, PA -
Philadelphia Ethical Society
(SOLD OUT)
Oct 5 - Washington DC -
Sixth & I Historic Synagogue
(SOLD OUT)
Oct 3 - Chicago -
Lincoln Hall
Oct 1 - Seattle, WA -
Columbia
Official
|
Secretly Canadian
|
Service