"
Cobrastyle (RAC Mix)" - Robyn
My friend Andre Allen Anjos, who remixed one of our songs, did this mix and I like it so much more than the original version. Someone actually just told me that the chorus is taken from a Kid Rock song. Oh well.
Listen
"The Boys Are Back in Town" - Thin Lizzy
Thin Lizzy's one of those bands that I heard a lot about and I've heard the hits on classic rock radio, but its not till I got a compilation of theirs that I really sat down and listened to them and realized how well-constructed these songs are. This song to me is all about summer.
Watch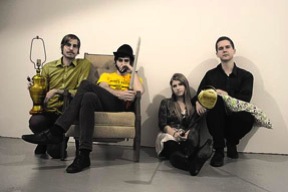 "

Since I Left You" - The Avalanches

Put this song on. It'll be summer wherever you are immediately.

Watch"Lust for Life" - Girls

I've been listening to this song on a near daily basis since I found out about this band when they came to NYC for their first shows here. Just a great pop melody, supplemented by some hysterically out of tune harmonica playing. What else do you need?

Watch "Phones Don't Feud" - Holiday Shores

A jangly, reverb'ed number. This band's getting compared to the Walkmen, which I don't hear, but this song really skips along.

Listen "House Jam" - Gang Gang Dance

I saw them play a free show at Barnard and it blew my mind. This album (Saint Dymphna) is good but overall not as exciting as their live show. That always amazes me.

Listen

Spanish Prisoners leader Leo Maymind recently shared his top tracks for the summer with What's On The Hi-Fi.