What's On Their Hi-Fi...Lacrosse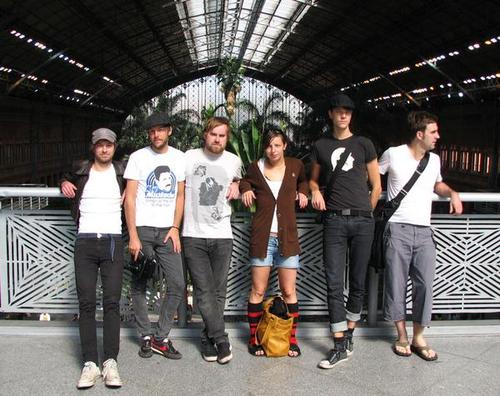 Lacrosse is a wonderfully sunny six-piece pop combo from Stockholm who are purveyors of a singularly clever brand of (intense) euphoria. The tracks on the band's excellent
Bandages For The Heart
are far from saccharine, wide eyed ditties along the lines of
Love Is...
, but are rather musical Polaroids which delve into the intricacies and inherent messiness of all that is romantic love. On this sophmore release, multiple male / female vocals thread back and forth atop indie-pop I'm From Barcelona-like anthems.
Bandages For The Heart
is out now on Hamburg label
Tapete Records
.
Listen to "I See A Brightness" MP3


Tobias, Henrik and Kristian of Lacrosse share with us what's now on their hi-fi!

Tobias Dahlström (drums)
"The Tears and Music of Love" - Deerhoof
It's just one hell of a pop song from one of Tobias' favourite bands from this decade. Watch

"Kilometer" from the album Sexuality - Sébastien Tellier
I hated almost everything with an eighties sound, until I heard this fabulous song! I am a changed man. Watch

Henrik Johansson (guitar and vocals)
"Jim Cain" - Bill Callahan
Bill Callahan takes melancholy to an entire new level with some fantastic melodies. From his latest album Sometimes I Wish We Were an Eagle. Watch

"Grass" - Animal Collective
It's impossible to be angry after listening to that song. Watch

Kristian Dahl (lead vocals and guitar)
"Halleluja!" - Ingenting
The best Swedish pop song this year - so far. ["Hallelujah!" will soon be appearing as a Track of the Day here on What's On The Hi-Fi!] Watch

Lacrosse (Official) | MySpace