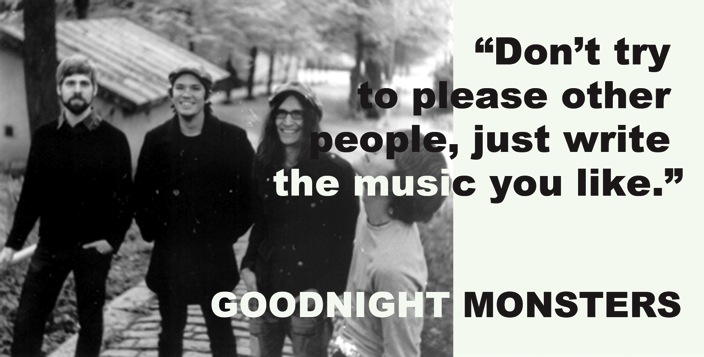 Chalk it up to long Nordic summer days or a certain wistfulness brought on by winters that last just that bit too long. Whatever the reason, Turku, Finland-based Goodnight Monsters have a clever knack for creating infectious, summer-inflected, indie-pop songs. The tunes are bright and blissfully uncomplicated and lack a certain polish, and they are undoubtedly all the better for it.

The group was formed in 2004 when Valtteri Virtanen and Matti Jasu began playing music together and released their debut album of home recordings in 2005 called The Brain that Wouldn't Die. The duo later joined with bassist Markus Jalonen and drummer Jussi Rantanen, forming the band's current lineup.

Valtteri and Matti talk to What's on the Hi-Fi about their well-received 2008 album Summer Challenge, the band's (new) direction and touring, and their blessed hometown under siege.

How did Summer Challenge (the group's first studio album) come together?
Valtteri: At first, we tried to record it the same way we did our first album, DIY style. It didn't work out that well for some reason, and we completed it in a real studio with producer Petteri Rajanti. The process of making it was kind of long; we started the first recordings in the summer of 2006 and finished the last mixing in early 2008. That doesn't mean we were sitting in the studio all that time -- the album came together little by little in short sessions. At first it sounded more raw and guitar-driven, but with Petteri Rajanti's touch it ended up sounding more sophisticated.

The lead-off song's namesake is the exceptionally affable, clever, loyal and energetic (Black) Labrador. As a first impression, what does that tell us about the album?
Valtteri: Originally the song had lyrics that mentioned a black Labrador. Then it transformed into an instrumental, but the title remained. We put it as the first track because it sounded like a nice intro for the album -- it introduces the upbeat rhythm and the spacey organ sound that kind of goes through the whole album.

I think Labradors are the kind of dogs that don't seek your attention all the time. They just lie down peacefully and make you like them in their own, lazy way. Maybe that goes for the album as well, or at least for our approach to self-promotion.

When you're writing, do you set any ground rules in advance, or is it just a gradually evolving process?
Matti:You shouldn't think too much when writing. Don't try to please other people, just write the music you like.

Who would you want to play a show with?
Valterri: It would be cool to support some great veteran act that we like, Neil Young or Yo La Tengo, for example. It would also be interesting to play a show with an extended version of our band, like with a horn section or something.

Any plans to strike out on tour in the US / Europe?
Valterri: No current plans at the moment, but we really wish something like that happens soon. So far, we have played some gigs around Europe, and it's been a lot of fun. We definitely are looking forward to touring again.

Is a new album in the works? What can we expect?
Valterri: Yes, we are rehearsing new songs at the moment and hope to get to record them soon, and do it a little bit faster this time. So far, the new songs sound a bit more loud and raw than the older stuff, but there'll also be poppy numbers. One of the songs is kind of loungey. One has a Bo Diddley beat. Expect some long guitar solos too.

How would you describe your hometown of Turku (which apparently is subject to an annual onslaught of swarms of youths from the feuding city Tampere, who all jump in Turku's market square in an attempt to push the city back into the sea)?
Matti: For a start, Turku is a much better place than Tampere! [laughs]

It's a nice town with a nice river flowing through it. There are lots of clubs and record shops and parks and stuff like that. The live music scene is also lively. It's one of the oldest cities in Finland.

What's on your hi-fi at the moment?
Valtteri: Goldfrapp's new album. It sounds like a mixture of some misty 60's folk and Saint Etienne, great stuff. Then some Stooges. RIP Ron Asheton. And Luna, I love their late night sound.

Matti: I've been listening to Nina Simone's whole catalogue -- top stuff. Also, some Neil Young, mostly Zuma and the latest album, Sugar Mountain. And I just found a bunch of cheap vinyl from a flea market, including records by Henry Mancini and The Association.


Goodnight Monsters (Official) | MySpace | Klicktrack