We had the pleasure of speaking with the talented multi-instrumentalist and singer / songwriter Kate Stables about her project This is the Kit and the beautiful debut album Krülle Bol.

Now living in Paris, Kate started writing and playing music in her home town of Winchester and later in Bristol where she co-founded the band Whalebone Polly with friend Rachel Dadd and began working with her partner Jesse Vernon on the project Morningstar. It was there in 2005 that Kate began This is the Kit, the spirit of which she describes simply as "writing my songs and playing them, with people joining in along the way".

Since the project's early days, This is the Kit has been a favorite of influential BBC Radio 1 dj Rob da Bank, and Kate has recorded an acoustic session for Rob's OneMusic show. Rob declared back in January 2006 that if Kate isn't "signed within six months I'll eat my size 12 Green Flash shoes slathered in mustard! Just watch me." While Rob may have found himself chewing for a little while, Kate soon signed with Angel's Egg records to release her demos in Japan and then with the French label Micorbe Records to release the debut album Krülle Bol.


Kate recorded Krülle Bol in Italy with producer John Parish (PJ Harvey, Sparklehorse).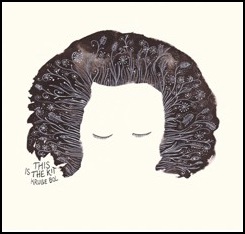 "We basically recorded it in less than three days which was quite an intense project. But it was good though. The album wouldn't have been the same otherwise. For me, it gave it quite a live feel . . . it feels nice to have those limits. . . ."

Krülle Bol, released in early 2008, highlights Kate's warm and shifting vocals, buoyed by sparkling guitar and banjo, and joined by Jesse on percussion, fiddle and vocals. "The songs are descriptions and little stories and usually a bit of a tangle. . . . Most of my songs are not about one thing each. There will be verses about different things -- just to throw people off the trail. . . . I don't mind if people don't understand things. In fact, I think that in that way I am a bit of a contrarian, messing with people."

One of the standout tracks from the album is the quietly beautiful Two Wooden Spoons. "I wrote it when I just moved to France actually. I started writing it about a certain situation that I was thinking about, and then it ended up kind of being about lots of different 'two wooden spoons' -- pairs in general, sort of soul mates."

In terms of writing, Kate points to the Irish poet Seamus Heaney and Bob Dylan as influences. She also enjoys old novels, like the humorist Jerome K. Jerome – "sort of Edwardian comedy [laughs]. I get a kick out of old fashioned language. . . sometimes that sneaks in I think. Because I do find myself writing songs almost exactly how I talk, which gets me in trouble sometimes".

"I don't know if it's particularly obvious in my music, but I listened to a lot of hip hop growing up and get very excited about people who can write such brilliant texts and deliver them is such a different way. I like the rhythm and the sounds of words -- it's what I kind of get excited about."

Kate is no stranger to touring, often joining artists like José Gonzales, Herman Dune, The National and Clogs. Who would she like to play a show with next? "I have been thinking about this recently. There is a brilliant band called V.O., they are Belgian, and I would love to play a show with them and maybe somehow engineer a sort of collaboration. That would be exciting. Lovely songs and brilliant arrangements – a great kind of atmosphere. I would love to do a concert with Alistair Roberts. He is a brilliant Scottish songwriter who worked with the project the Amalgamated Sons of Rest. And also people like Bonnie 'Prince' Billy."

This is the Kit embarked on a multi-week tour of Japan this year with Rachel Dadd and Morningstar. "Japan was amazing. So at the moment, I am totally in love with touring and playing concerts -- we have some tours to do in England next week, and I am sure that after that I will think touring is rubbish [laughs] . . . At the moment, it is a lot of what it is about for me." Asked about possibly touring in the US, Kate said that there are wishes, but no plans as of yet. "I would love to, but I just don't know how to swing it. We just have to see. . . . I think we would quite like to . . . spend a good chunk of time there just playing and exploring."

Kate is busy putting together the next This is the Kit album which she hopes to record this spring (2009). She also hopes to release a new Whalebone Polly EP with Rachel Dadd. "We all have lots of pans of soup on the go, so we are stirring them all whenever we can" [laughs].

We spoke for a bit about the seeming resurgence of the singer / songwriter. "It's true, things kind of fluctuate and swell. At the moment, it is quite big and present. I think I believe in collective unconscious -- no one copies each other, there are these trends -- swellings of certain things. At the moment it is nice that there is a lot of songwriting going on. It's also nice when there is a general dance music vibe as well – but, right now, people playing instruments and singing, [laughs] I think that's kind of good for the human soul."



What's on your hi-fi at the moment?


"It sounds like a very square thing to say, but I find it quite hard to keep up with all of the new music at the moment. . . . I listen mostly to friends' music, but occasionally a big name or two sneaks in there."


• V.O. [http://www.myspace.com/voband]
• Erica Buettner, "she has just got an amazing voice, and it's a total pleasure to listen to -- she writes brilliant songs" [http://www.myspace.com/ericabuettner]
• Soy un Caballo [http://www.myspace.com/soyuncaballo]
• Bonnie Prince Billy [http://www.bonnieprincebilly.com]
• Portishead's album "Third" [http://www.portishead.co.uk]
• Kimya Dawson's album "Alphabutt" [http://www.kimyadawson.com]
• Herman Dune [http://www.hermandune.com]


"Krülle Bol" is released on the French label Microbe Records [http://www.microberecords.com] and also available on iTunes.
A collection of This is the Kit demos is available from the Japanese label Angel's Egg. [http://www.angelsegg.jp.org; http://www.myspace.com/angels_egg]
The single "Two Wooden Spoons" is available on Rob da Bank's Sunday Best Records. [http://www.sundaybest.net]

This Is The Kit (Official) | MySpace