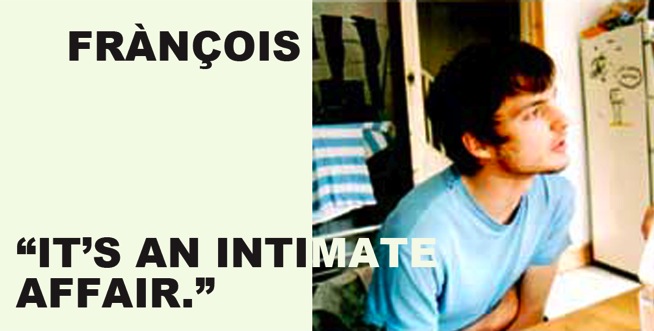 Frànçois is an artist (both musical and visual) who deftly melds the influences of his native France with those of his adopted home of Bristol. His lo-fi indie pop is at once warm and intimate and often unabashedly joyous. There is a welcome unhurried and ambeling feel to his naive songcraft and a soft reassurance in his reserved vocals, combining to lay out landscapes often plucked from Frànçois' passions and memories, as is the case on the beautiful EP
Her River Raves Recollections
. A true delight.
Look for Frànçois' releases on
Stich Stich Records
,
Lejos Discos
and
Talitres Records
.
Listen to: "Royan" (opener from the EP
Her River Raves Recollections
) MP3
You are originally from Charente-Maritime (the South-West of France), but have been based in Bristol for a few years now. How did this move come about?

I got offered a job as a French assistant at the Bristol Cathedral School. I was very pleased to move to Bristol; I liked the atmosphere of the music coming from there (Crescent, early Tricky, Portishead).
How does growing up in Saintes play into your music and lyrical imagery?
Saintes was a boring city for the teenager that I was. It's very calm especially at weekends. When my friends took me on the back of their scooters to go skateboarding on Sundays we would be riding in deserted streets. There is a feeling of melancholy and desolation in the air.
It's exactly the type of city described in Dominique A's song: "Je suis une ville de chantiers ajournés, de fetes municipales de peu de volonté".
How would you describe Bristol to friends back in France? How did you become involved with the local music scene?
All my French friends who visited Bristol loved it. It's a very easy city to love. The underground art scene is dynamic and friendly. It's easy to get involved. There's no snobbery. Crusty hippies and trendy hipsters work together in volunteer run cinemas and cafés.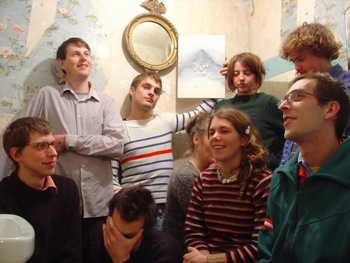 How did you assemble the musicians of "The Atlas Mountains"?
By meeting friends. By involving whoever is available amongst the people I get on with. The Atlas Mountains is just the name I give to my backing band, but its members change all the time and are from different group of friends. A few examples: Rory Pilgrim was a pupil at my school, Victor Crespi and Amaury Ranger are old friends from Saintes, Rozi Plain is my girlfriend, Rachael Dadd is a singer I met at an open mic night, Rob Hunter is my flatmate, etc.
One of our favourite tracks is "Tracy Emin" from the Brother release. Could you tell us a bit about this track dedicated to the Turner prize winner?
It's a dream I had one night. She was keeping people locked up to make them go crazy and filming their reactions.
You are also passionate about painting and filmmaking (the artwork on your releases is often that of Frànçois himself). How do theses passions weave into his music?
I see it as one big body of work. My stage name is also my artist name. Frànçois the painter = Frànçois the musician. It's a different way to express my vision of the world and explain my way of life. I think they join. I think my music and my drawings have a common feel. I rarely lie when I do art. It's very honest most of the time. Sometimes I use a bit of effect here and there, but the intention is always to be direct and true.
How do you choose between writing / singing in French or English?
Poetry comes to me in both languages. I think French is a beautiful language. I can't get enough of reading poems by Baudelaire or novels by Camus and Vian. But at the same time English is very playful and funky sounding. I need both to express feelings and create imagery.
The tracks from your EP Her River Raves Recollections and the long player Plaine Inondable [Out 14 September on Talitres Records] were recorded in an array of locations. Could you tell us how these recordings came about and your approach to the releases?

Her River Raves Recollections
is a sort of collection of songs recorded at different places and times, but they have in common the feel of water. One side of the vinyl is the River Side, and the other is the Sea Side. I need to go in the water very often. If I don't swim in the sea or the river for a long time, I start feeling confused … All the songs on the EP refer to that feeling in one way or another. It's an intimate affair - a lot of it was recorded on a 4 track that fits in the palm of my hand. So when I recorded it, it was like talking quietly to someone. I recorded a lot of it outdoors, picking up the surrounding sounds.
Plaine Inondable was recorded in one place: Saintes. The songs talk to the city and its surrounding, the fields along the river Charente that gets covered by the water every winter when the rain makes the river flood. It's got melancholy in it and also more foreign rhythmical backgrounds that express the desire to move away from Saintes, the will to travel to Africa (calabash beats), California (70's guitars) or Eastern Europe (Bulgarian female vocals harmonies), etc. Sound wise it is more produced, the ideas are more developed and the sound is richer.

It has been said that you are not particularly influenced by contemporary acts? Is this the case, and if so, what types of music are you the most attracted to?
I like some modern things, and I love watching bands live. At the moment I enjoy listening to hip hop and R&B artists like Kanye West, Clipse, Lil' Wayne. But it is true that a big part of my influences is music from the 70's (Arthur Russell, Philip Glass, music from Mali, Nigeria and Ethiopia recorded in the 70's), and also composers from previous centuries (Debussy, Satie, Chopin, Rachmaninoff, Bach).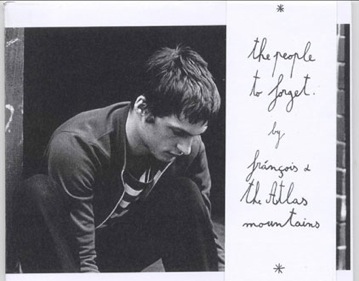 What is on your hi-fi at the moment?"The Balled of Dorothy Parker" - Prince
Because I just found out Prince is a giant. I love the way he combines the profile of a superstar who looks and acts cool and an artists who spends all of his time in his studio experimenting with funky ideas.
"Two Weeks" - Grizzly Bear
An example of how modern production can create purity of sound and make simple pop songs that don't sound dull.
"Silver Boat" - Ladybird
He is my friend and a constant inspiration. The simplicity in his music and its intentions move me.
"Mr. Me Too" - Clipse
Because it's pure groovy.
"The Lady With The Braid" - Dory Previn
A lesson in songwriting. Better than Dylan because she's not a poser. I discovered her through my friend Tracyanne Campbell from Camera Obscura, so I also like that song because it reminds me of her.
Frànçois (Official)
|
MySpace