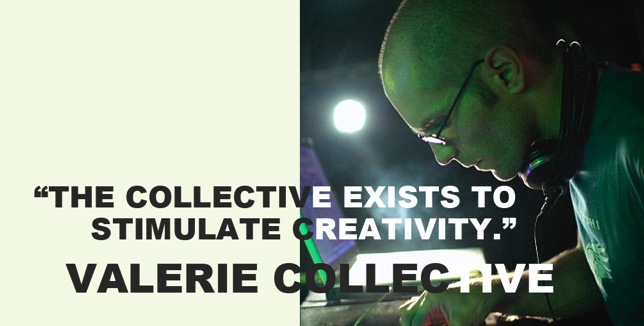 Hands down, the Valerie Collective is responsible for some of the very best original electronic music now coming out of France. And no, these sound are not coming from Paris as you might expect, but from further afield in Nantes in western France.
After starting his own brilliant musical project College in 2005, David Grellier went on to found Valerie (a name which resounded with David from the 80's). David created Valerie as a way to foster musical talent, by providing opportunities for collaboration and taking advantage of the Internet and blogs. The Collective is now home to artists such as Minitel Rose (a reference to adult services/sites provided on the French precurser to the World Wide Wide), Anoraak (responsible for the excellent track "Nightdrive With You"), English producer Russ Chimes, The Outrunners and Maethelvin. These artists share a common retro-futurist thread that is the hallmark of the Collective, bucking the French musical mainstream and seducing us with their romantic blend of 80's inspired electro.
We are excited to share with you an exclusive and yet unreleased College track "Blue Camera" (also, watch for it on our next podcast).
Listen to "Blue Camera" from College MP3
David spoke with What's On the Hi-Fi about the origins for the Collective, its influences and identity, the Paris-centric music scene and those artists which inspire him.
(Answers translated from the French)
Could you tell us about the philosophy and your inspiration for creating College and the Valerie Collective?
College was created in 2005 - I wanted to synthesize into my music the emotions of my childhood. During this period, I discovered the amazing opportunities offered by blogs, an excellent means by which to extend my universe and to share my visual and musical references, and thus, Valerie was born in 2007.
Is there a particular sound or outlook which unifies each of the artists of the Collective?
I think that today there are various groups of projects within the Collective. The Outrunners, College and Maethelvin, for example, represent a more instrumental branch. The Collective exists to stimulate creativity and to help artists present their projects. In addition, with New York Collective member Freedanger, we have produced a new 7" with the participation of Stephen Falken (member of the Outrunners) and Maethelvin (available at the Valerie on-line
store
:).
American 80's pop-culture references seem to run throughout the Collective. What are some of the most significant influences of the Collective and its artists?
Maybe to be more precise, we would ideally need to ask each project since the references are so varied. As for me, College is primarily influenced by 80's soaps and an aesthetic which I particularly like: color, images, silvery films and the sun - images of Los Angeles, Chicago and all of the other cities that I discovered through my television and which continue to fascinate me.
How did you decide upon the graphic feel for the Collective's identity?
I believe enormously in artistic collaborations which are facilitated today by various media such as MySpace and blogs. Thanks to this amazing development, I was able to contact The Zonders who have created a number of our album covers to date. Beyond this working relationship, a real passionate relationship (which is essential for me) has developed and that is what guarantees our creativity.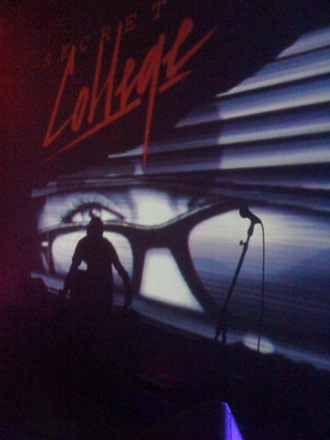 Do you feel that the French music scene is particularly Paris-centric? If so, are you affected by this?
There is certainly an artistic and media "microcosm' in Paris, but all of that doesn't really interest me, and its rather sterile from a creative point of view. The internet has exploded this little word and allowed underground projects to emerge and given a wider audience access to music, and that is very good thing!
Do you see any particular differences in the way that your music is received abroad?
We have a particular resonance in the U.S., and that means a lot to me.
What artist (apart from those of the Collective, of course), do you see creating particularly inspiring work which genuinely excites you?
I have had the chance to play with The Hasbeens and Alden Tyrell in Holland, and I must say that this is the live performance that has most impressed me - for its beauty as well as its melodic power - a rare moment … marvelous!
What artist would you love to see join the Collective at a Valerie Party?
The Hasbeens, Alden Tyrell.
What can we expect next from the Collective?
Beautiful productions, and perhaps, for some, a coming together with the world of film, and as always, the blog which is at the center of our artistic compositions. I also hope to still produce releases as my finances allow and highlight talented artists like Stephen Falken and The Outrunners.
What is on your hi-fi at the moment?
"You and Me" - The Hasbeens (for all of the reasons above)
"Cruising" - Stephen Falken (if a track could sum-up the spirit of the Valerie collective, this would be it)
"Hound Dog" - Elvis (because on Sunday, listen to Elvis. It's perfect.)
"Silent Running" - Joan Baez (I recently discovered the film, and love the slightly hippie side of things)
"Playback Fantasy" - O'Gar (an older Spanish / Italian track, poorly sung and not quite right, but all this fragility creates a rare, melodic and emotional equilibrium)
"Ich habe dich gesehen" - Schwefelgelb (the last German group with Electronic Body Music - also great live)
Valerie (Official)
|
Valerie (MySpace)
| Twitter: valerie_friends |
College (MySpace)