What's On The Hi-Fi...Podcast Six
Listen to "What's On The Hi-Fi Ep. #6" MP3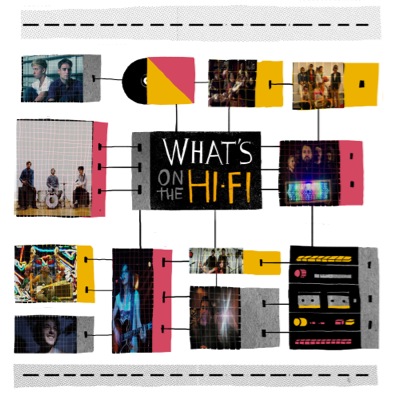 "Blessa" - Toro y Moi
Toro y Moi is the solo project of The Heist and The Accomplice lead singer Chaz Bundick. "Blessa", off his album
Causers of This
, is a unique sound that has elements of TV On The Radio, MGMT and crate robbers like Blockhead and R2DJ, but takes its own path. There is a psychedelic vibe behind the track like the best of Animal Collective and doesn't run off the rails like many of his psych-pop contemporaries. What sets the track apart is the sexy yet maudlin station it orbits above.
Toro y Moi (Official)
|
MySpace
"Everybody Knows It's Gonna Happen Only Not Tonight" - The Go Find

Morr Music artist and Belgian native The Go Find aka Dieter Sermeus provides a smooth, sweet and upbeat track that will make you kick your feet up and love life.
The Go Find
|
MySpace
"Golden Chain" - Lake Heartbeat

Trust in Numbers is the debut release from Swedes Lake Heartbeat. The Gothenburg-based duo is made up of Janne Kask (formerly of Brainpool) on vocals and Kalla Kåks on guitar / bass. Put out by Service (home of bands such as The Embassy, The Tough Alliance and Jens Lekman),
Trust in Numbers
glows with hooks and bright, romantic pop. The album is produced by Dan Lissivik of other projects such as Studio and Fontän (listen to "
Early Morning"
from Fontän). "Golden Chain" is our favorite track from the album, with its modern and sun bleached take on 60's guitar-pop, providing a welcome escape from a shortening of days and the nearing stretch of winter.
Lake Heartbeat (Official)
|
MySpace
|
Service


"I Felt Stupid" - The Drums

With "I Felt Stupid" from The Drums you can hold onto the increasingly fading memory of the dog days of summer. The Brooklyn duo (and Florida natives) delve into their New Wave influences and create a track which bops along on synths, Cure guitars and unabashedly shiny melodies. Lyrics of lost love mingle with talk of treks to the Eden that is the beach, where life seems slightly less complicated and "where we can finally be free". Grab the towels and lets go.
The Drums (Official)
|
MySpace
|
TwentySeven Records (MySpace)
"May You Never" - Land of Talk
Montreal's Land of Talk is back with a follow-up to the excellent 2008 release
Some Are Lakes
(produced by Bon Iver's Justin Vernon). The group, led by frontwoman Lizzie Powell (also part of the Broken Social Scene caravan) who is rebounding from vocal chord ailments earlier this year, has released the excellent EP entitled
Fun and Laughter
on the Omaha, Nebraska-based Saddle Creek Records. The EP includes 4 new tracks like the guitar driven change-up "May You Never", as well as videos for earlier releases, including the woozy standout "The Man Who Breaks Things (Dark Shuffle)". Look for a new full-length from the band in 2010.
Land of Talk (Official)
|
MySpace
|
Saddle Creek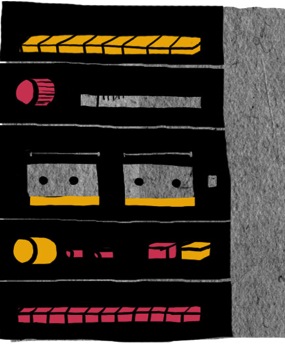 "Queen Kong" - Last Man Standing

Part glam era Bowie and part classic Pretenders, this track is all cool, tough jungle strut. Learn what festival goers all over the UK have known for several years: Last Man Standing is a force!
Last Man Standing
|
MySpace
"Scissor" - Liars
After traveling on a musical odyssey through the realms of a Jesus and Mary Chain and Pere Ubu post-punk revivalism, a Nitzer Ebb, industrial pit-stop and a formless, cinematic sound collage period, Liars - Angus Andrew, Aaron Hemphill and Julian Gross – seemed to have found their sound. "Scissor" is the first track from their upcoming album
Sisterworld
. The song retains an ominous and bleak residue from their earlier work but takes that previously scattered, confusing group of sounds and reveals a rich, evocative and succinct cry that is filled with wraithlike harmonies and vocals. When the "Scissor" bursts with brutal intensity you know the members of Liars have arrived. And they are going to be welcome on our hi-fi for a while to come.
Liars (Official)
|
MySpace
"Rollerskate" - Matias Aguayo
Dust 'em off, lace 'em up and hit the rink. It's time for couples skate at the roller disco. With
Ay Ay Ay
, Matias Aguayo (formelly of Closer Music) departs from his more established electronic style and explores a full-on world of left-of-center songcraft riddled with layers of wild vocal effect buckshot. Matias is at his most playful on tracks such as "Rollerskate", one of the release's most light hearted and unapologetically fun highlights.
Facebook
|
MySpace
|
Kompact
"War Bells" - Royal Bangs
Royal Bangs hail from Knoxville, Tennessee and with their sophomore release
Let It Beep
, deliver a gunning mix of 70's guitar rock tinged with just enough vintage electro wonkiness. To help put this sound in perspective (or not as the case may be), the band cite such far ranging influences from Bruce Springsteen to the soundtrack of
Blade Runner
.
Let It Beep
kicks off with the excellent track "War Bells", and the joyride continues for another 11 refreshing tracks.
Royal Bangs (Official)
|
MySpace
| Twitter: royalbangs |
Audio Eagle Records
"Darlin Dear" - Little Fish

Singer songwriter JuJu Sophie creates a heartfelt, strong and passionate song that reminds you of the best of PJ Harvey or Patti Smith. This Oxford lady is fierce and one to watch.
Little Fish
|
MySpace