Sin Fang Bous
Clangour
Morr Music / Kimi Records (December 2008)
Download: "Catch the Light"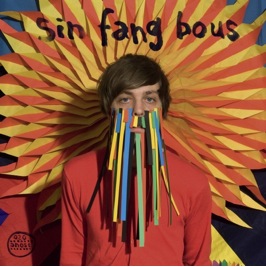 Sin Fang Bous, is the solo project of Rekjavik's Sindri Mar Sigfusson, vocalist of the folk-pop collective Seabear.
In keeping with the quirkiness of many of his more well-known compatriots, the name of Sin's project is said to be an invented muddle of a truncated version of his name, his teeth and the way his music sounds. Bless.
Clangour sees Sin sidling away from the mellow, folk-inspired sounds of Seabear to having a whale of time experimenting with all kinds of electronic and organic sounds. Gone are the compromises (and the shared accountability) of the group dynamic.
The result is an intricate and playful mix of often dense layers and electronic snippets, held together by Sin's uplifting vocals and catchy refrains. The songs evoke images plucked from a child's imagination, from the rhythm of cowboys on horseback ("Catch the Light") to the twists and turns of a gripping whodunit ("Poirot") -- all lovingly and patiently cobbled together in his dad's basement.
The video for the first release from the album is for the track "Advent in Ives Garden", directed by animator Kjartan þór Trainer.
MySpace