The Welcome Wagon
Welcome to the Welcome Wagon
Asthmatic Kitty / Differ-Ant (December 2008)
Download: "Sold! To the Nice Rich Man"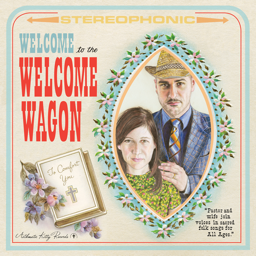 Listening to the Welcome Wagon, I can't help but be reminded of my third grade teacher Sister Tilly who kept a rather well loved poster of Rod Stewart secreted away in the classroom cupboard -- both are earnest in faith and charmingly left of center.
The Welcome Wagon are the Brooklyn-based duo of Vito Aiuto, a Presbyterian ordained minister, and his wife Monique (who, if the liner notes are to be believed, rather dauntingly "arouses tales of Puritan neatness, with sanguine maxims and beneficent characters".
Their debut album is a mix of stomp and clap sing-alongs, many adapted from old time hymns, and a few covers including The Velvet Underground's "Jesus", and a slightly out of place version of the Smith's "Half a Person".
The couple swaps singing duties, and the homespun songs swell with banjos, brass, choirs, percussion and guitars, all under the careful production of friend and label mate Sufjan Stevens. Sufjan's contributions (both production and musical) to the album are unmistakable and numerous, even to the point where it sounds, at times, like this effort could slot neatly into his own early catalogue.
Despite the project's highly stylized persona, The Welcome Wagon offer up songs which affirm the couple's passions, avoiding pretence and a heavy hand. A rare thing indeed.
Come On! Feel the Joy!
MySpace
Listen to "Sold! To the Nice Rich Man"