Cocorosie
Coconuts, Plenty of Junk Food (EP)
Self-Released (2009)
Download: "Coconuts"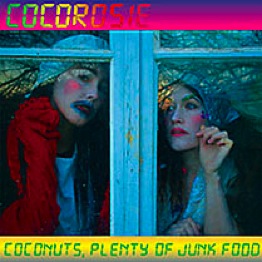 The sisters Casady, Sierra and Bianca, are both a unique and simple pair. One born in Hawaii, one in Iowa, the part Native American girls were out exploring the world on their own terms from an early age. Before forming the duo each spent time developing outside of the alternative-pop world. Sierra studied opera at the Conservatoire de Paris and Bianca visual arts and linguistics while living in Brooklyn, NY. After years being apart the older Bianca migrated to her sisters Paris' apartment in Montmartre and immediately took to writing a simple bedroom EP,
La Maison de Mon Rêve
, that was to be distributed only to a few friends. The quirky yet inspiring group of songs made its way to the folks at indie label Touch and Go and Cocorosie was born. (The name comes from nicknames Coco and Rosie from her mother)
Since their first EP release the duo has added full lengths
Noah's Ark
in 2005 and
Adventures of Ghosthorse & Stillborn
in 2007. The latter yielded the excellent "Rainbowwarriors". Both albums show a steep progression in the quality of the songwriting and production but still retain Sierra's controlled guitar/harp playing and Bianca's Billie Holiday purr alongside her tinker toy drums and samples. A lot of this growth could be contributed to the seemingly endless tour that the girls have been on.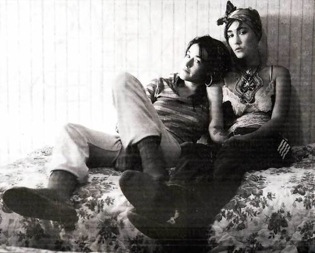 Their current EP
Coconuts, Plenty of Junk Food
(only available at live dates) continues where the last single release "God Has Voice..." left off. The first track "Happy Eyez" is a child's dream pop song with carousel organ and double-dutch jump rope beat. Bianca sings along in kind with a kind of stream of consciousness rap. But like all of their songs the simplicity is just for face value. The lyrics always provide a wealth of unique images and thoughts. On the single from the set "Coconuts" Cocorosie continue the kid's tea party mood with a Kid Loco-esque drum beat below a toy piano and regular piano and an off time harmony by the duo. The oddball of the mix is "Milkman" which is a very grown up blues/jazz lament that features Bianca's best vocals over a cool, laconic jazz piano best compared to Leon Russell's pared down offerings.
Because this EP is only available at live shows it might be a tough find but the group has an entertaining and singular live set so its worth a go if they get to your fine town. If not I imagine the contents will show up on their upcoming full-lenth which is being recorded now at studios about the globe.
Cocorosie (Official)
|
MySpace