Here We Go Magic
Here We Go Magic
Western Vinyl (2009)
Download: "Tunnelvision"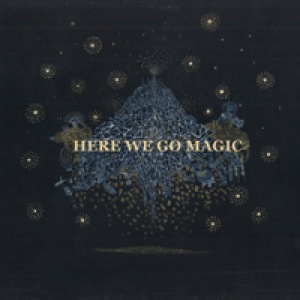 Fronted by critical darling of the Seattle music scene Luke Temple, Brooklyn based Here We Go Magic's eponymously titled album is filled with facile playing, straight-forward melodies and simple yet redolent lyrics all of which culminate in a very solid and eclectic output that eases and rolls out of the hi-fi.
Here We Go Magic
opens with "Only Pieces" driven by a lively, hypnotic electronic beat sequence that recalls African drums and rollicks in circles of cascading sounds added every few bars. "Ahab" brings to mind a mid-seventies Steve Miller Band track or Kool & the Gang's "Summer Madness track with its slow, lilting synth style chilling under the Police era Sting whisper.
The standout on the album is "Tunnelvision" a bouncy tune that lives on a handclap, leg slap and guitar strum but holds your attention with the subtle voice overdubbing that builds throughout.
There are a few other tunes that might catch attention like "Fangela" but the whole album is filled with passion and attentive song crafting that makes every one of the nine songs a gem.
Here We Go Magic (Official)
|
MySpace