Foxy Shazam
Welcome to the Church of Rock and Roll
Sire Records (2012)
by Contributing Writer Katryn Macko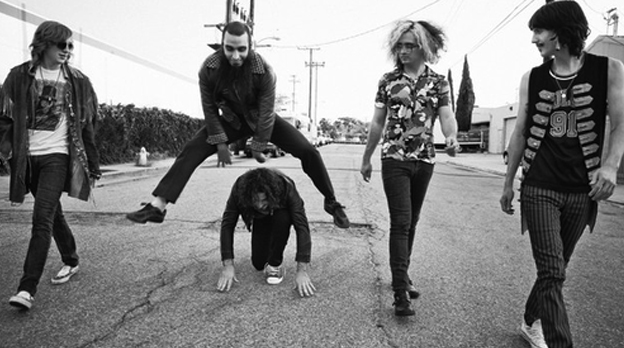 This may not be the most eloquent way to put it, but classic rock plus Foxy Shazam front man Eric Nally's sultry vocals equals one bad ass record. Plain and simple. The band's fourth studio album,
Welcome to the Church of Rock and Roll
, refines this crew's wild tendencies and highlights their myriad of strengths. This Cincinnati six-piece took a daring step by completely changing their signature funkcore sound by attempting to make a strict themed album, but they accomplished it brilliantly.
Church of Rock and Roll
has a promising start with its sterling title track and the hit single "I Like It". Both are the quintessential classic rock tunes, complete with ripping distortion guitar riffs, chorus vocals, and sizzling lyrics. One pleasant surprise was the heart-wrenchingly honest "Forever Together". This track gambles with pretty much everything Nally does, through the sincere frankness of his emotions, the unconventional vocal pattern, and the rare use of his authentic squeaky voice rather than his suave stage voice, but luckily he knows exactly how to make it all work. The distinctiveness continues with the digital percussion and beautifully harmonized intro choral feature in "(It's) Too Late Baby". Nally drags the listener in right when the opening line pours out of his mouth: "When we were young I played the cowboy and you were my beauty queen". "The Temple" is hands down the most natural and sexy song on the album. The dirty guitar fits seamlessly with the sinful lyrics, "If you want inside my temple, I'm gonna have to let you in". There is an eerie spoken word bridge followed by a smooth trumpet line that is pristine and entirely satisfying. "The Streets" is a piano rock anthem oozing with raw passion and drive, paying tribute to his hometown and supportive wife. A gorgeously finger picked guitar riff appears on the last track, "Freedom", and it's followed by a screamed chorus which creates a fascinating juxtaposition that concludes the album in an ultimately compelling way.
Check out the booty thumping tongue-in-cheek video for "I Like It"
here
.
Official
|
Myspace