Little Boots
Illuminations
Elektra Records (2009)
Download: "Stuck On Repeat"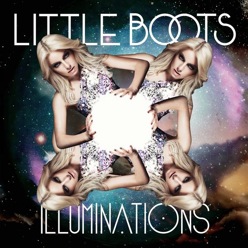 Released a month ago in the UK, Little Boots'
Illuminations
EP made its stateside debut, and it shows itself to be an enjoyable and stimulating electro-pop indulgence. Much as there was a wave of white neo-soul singers coming from parts outside the U.S. to take over the pop scene in 2006 - think Winehouse, Adele, Duffy and others - a new neo-glam look and retro synth dance sound has emerged in the wake of Lady GaGa and Ladyhawke's popularity which includes the likes of La Roux and most recently Little Boots. Like the Brit-soul slingers before them, the gals following in this vein have a pleasant magnetism in their party girl with a brain tracks.
For Little Boots, a/k/a Victoria Christina Hesketh, much of the EP rides the line between Anita Ward's classic "Ring My Bell" and Giorgio Moroder 80's synth sound. She shows a lot of style and panache throughout each offering with standouts coming on "Stuck On Repeat", an impulsive sidewalk dance stomper, and "Magical" featuring a pure Trinere-esque early 90's dance club beat.
This is not a serious album by any means, but it proffers a rewarding opportunity to relax and get into a party mood.
Little Boots(Official)
|
MySpace