Bear in Heaven
"Lovesick Teenagers"
From
Beast Rest Forth Mouth
Hometapes / Dreamboat (2010)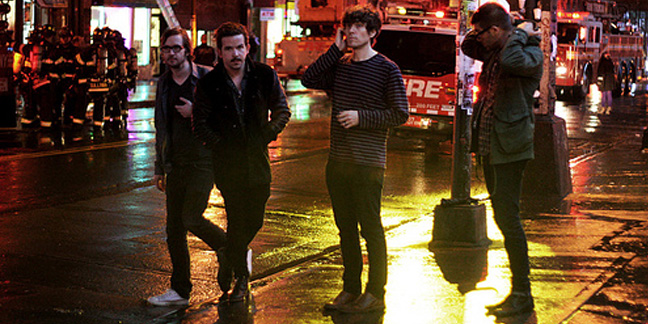 Listen to "Lovesick Teenagers." MP3
Beast Rest Forth Mouth
is the second release from this quartet made up of Jon Philpot, Adam Wills, Sadek Bazaraa and Joe Stickney. The album speaks to the points of the compass ("Beast Rest Forth Mouth" / "East West North South") and the inevitable pause of uncertainty at reaching a crossroads. All transplants to Brooklyn from the American South, Bear in Heaven create a distinctive sound wrapped in a rolling fog of kraut beats, treated vocals and synth washes. The second single "Lovesick Teenagers" is a darkly optimistic reminder that while the years seem to tick by with an unfaltering regularity, you never lose hold of that teenager that you once were.
Released in the US last year to a warm critical reception,
Beast Rest Forth Mouth
will be seeing its European release in April 2010 on Hometapes in association with Dreamboat Records. The band are now on the road with Cymbals Eat Guitars throughout in North America, interrupted by a stop at SXSW, and then off on their first European tour. Be sure to catch Bear in Heaven at Point Ephémère in Paris on 27 April, or in London at The Lexington on 20 April and at Windmill Brixton on 26 April.
The band will also be in Brooklyn on 18 February at Grasslands and again on 9 April at The Music Hall of Williamsburg with Cymbals Eat Guitars.
MySpace
|
Hometapes
|
Dreamboat