Speech Debelle
"Better Days"
From
Speech Therapy
Big Dada / Ninja Tune (2009)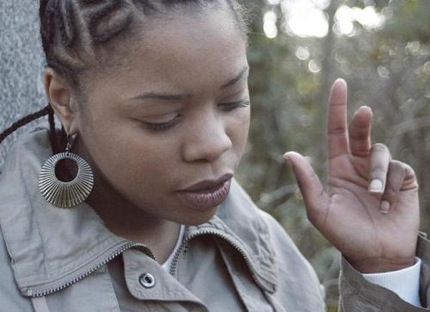 Listen to "Better Days" MP3
Speech Debelle has come to the forefront this year with her win of the 2009 Barclycard Mercury Prize for her debut album
Speech Therepy
. Inspired by the likes of Ms. Dynamite (Mercury Prize winner in 2002), the 26-year-old South Londoner approached her label Big Dada back in 2005 looking to make a "hip hop version of Tracy Chapman". While far from the original brief, what results is a very different type of rap album. On
Speech Therepy
, Ms. Debelle combines various influences with organic jazz-inflected instrumentation. What you will immediately notice about Ms. Debelle is her connecting and genuine narrative - often distinctly intimate and personal.
Speech Therapy
often gives flesh to darker times, and with her Mercury Prize win, Ms. Debelle says that she is now ready to focus on the days ahead.
On "Better Days", one of the standouts from
Speech Therapy
, Ms. Debelle redirects her organic sound in a beat-centred direction, set off against her immediate and hopeful lyrics and Micachu's quietly melodic chorus. This track will get in your head and stay there - guaranteed.
Check out Speech Debelle's MySpace page for concert date updates, including the 1 December show at Nouveau Casino (Paris).
Speech Debelle (Official
) |
MySpace
|
Watch