Get Back Guinozzi
"Low Files Tropical"
From
Carpet Madness

FatCat Records (2009)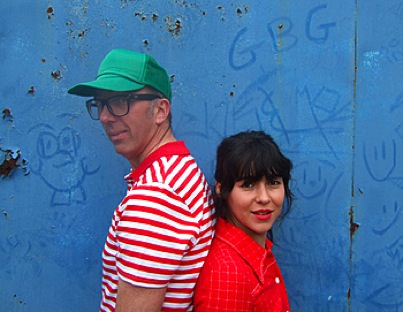 Listen to "Low Files Tropical" MP3
Get Back Guinozzi is a London / Toulouse -based quintet headed by friends Eglantine Gouzy and Fred Landini. The group thrives on a pick 'n' mix of influences from reggae, dub African, Tropicalia with a hefty dose of summery pop. One of the highlights from the group's debut album
Carpet Madness
is the infectious single "Low Files Tropical" - a breezy groove which highlights the wonderfully warm childlike vocals of Ms. Gouzy (you can check out her solo work
here
). Also, check out Get Back Guinozzi's take on the Junior Murvin song "Police and Thieves" (a free download of the track is available on the
FatCat Records
site).
The titillating video for "Low Files Tropical" was created by director Jean-Luc Charles and features a mix of footage of the band at the Midi-Festival in France and vintage super 8 films shot at the "Bingo Club" on the French Riviera.
Watch
.
MySpace